Lottery winnings are transformative in every sense for my character, Dawn. She's in a low income family, they're really, really struggling. They've got two teenagers and an unexpected baby on the way. I think they're wondering how they're going to manage. They're classic winners of the lottery – they desperately need a break.
All the main characters have got their heads screwed on. I think the feeling that you get from them is that they're a pretty sensible crew. They're not likely to go out and do anything nuts with the money. In fact, what they choose to do is really sensible.
The Syndicate pool their money together for the lottery rollover
I just know what it feels like. I've got a nine-year-old son and a nine-year-old nephew, and I'm a busy mum, and I know a lot of mums who are busy with a job, rushing around, getting everyone off to school and work – so it's just very easy to identify with Dawn really – it wasn't too difficult!
The plot was a secret from us in the cast. The first two months we were all working very closely together filming the first day – and the disappearance of Amy, Dawn's daughter. After that, we literally didn't know what had happened to Amy or where she had gone. We were given two episodes at a time. We started in October, and it was still a mystery right up until the beginning of January when we started the last little block. So we didn't know whether she was going to be alive or dead! And I think Kay Mellor wanted it that way – there was everything to play for, doing it like that.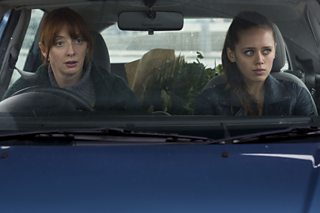 Dawn Stevenson (Elizabeth Berrington) and her daughter Amy (Daisy Head)
British drama at its best is realistic and truthful. You know, working class characters are portrayed. I know that there's less of an appetite for that (for example) on mainstream TV channels in the States where all the characters are sort of polished – nice make up, hair nicely brushed.
Wolf Hall was brilliant for me. Yes it was a period drama, but it was just so utterly believable. Sometimes period drama can be very beautiful, but it isn't very current because it isn't 100% truthful. But the characters that were realised in the show were just utterly believable. And when English drama produces work like that, then it's top notch really.
The moment when the group find out they have won!
I'll tell you who I've worked with who I find incredibly watchable – Sarah Lancashire. I love Sarah's work. She can't do something that isn't utterly believable and utterly truthful, and I find her absolutely mesmerising. Every bone in her body is terribly committed and just full of truth really.
I also love Monica Dolan, another wonderful English actress, she's in W1A – she plays the Welsh communications officer. But you know, fiercely talented. Both she and Sarah have been supporting actresses for years and years, just grafting away, and now they're being acknowledged in a way that they ought to be.
I've been thinking a lot about how I'd spend the money if I won the lottery. And my sister is next to me, so if I won the lottery I'd pay off her mortgage! I'd sort out her and my family and friends. The whole family are chipping in now! I'd hire a big villa in Sicily and fill it with all my friends for a couple of months and have a grand party! My son is now shouting "what about me?!" [Aimed at her son in the background] – I'd send him away to school and we wouldn't see him until Christmas time! I'd take some time off work, learn some languages, and do some things that you never normally learn to do.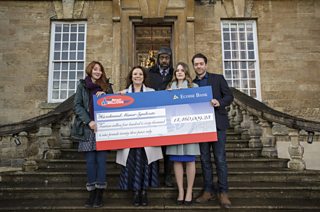 The Syndicate with their winning cheque at Hazelwood Manor