Siblings: Relationships we love to hate
To celebrate the start of Siblings, a new BBC Three sitcom featuring dysfunctional brother/sister duo Dan and Hannah, we looked back at the highs and lows of sharing your life with a sibling in 10 popular BBC comedies.

Del and Rodney Trotter in Only Fools and Horses (1981)

The earliest of our sibling sets is one of the best-loved in British comedy.

The two shared a close bond, strengthened by their wheeler-dealing scrapes.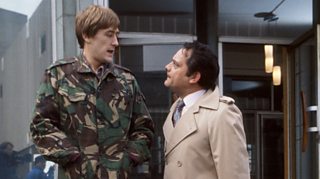 Rodney (Nicholas Lyndhurst) was raised by older brother Del (David Jason)
Rodney proves to Del he really is a plonker, when they get caught in a hold-up at the supermarket


Adrian, Aveline, Billy, Jack and Joey Boswell in Bread (1986)

The Trotters weren't the only ones taking dubious measures to make a living in 1980s Britain.

In Liverpool, Mrs Boswell's clan used every trick in the book to put money in the pot and food on the table.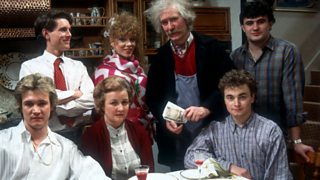 Peter Howitt as Joey, Jonathan Morris as Adrian, Jean Boht as Mrs Nellie Boswell, Gilly Coman as Aveline, Ronald Forfar as father Freddie Boswell, Nick Conway as young Billy and Victor McGuire as Jack
There was ringleader Joey with his expensive tastes, Princess Diana hair and gift of the gab at the
DHSS
; young Billy, who was the first to marry and have children; second-hand goods dealer Jack; and Adrian, whose estate agent job was always "hanging by a thread".
All four brothers were protective towards their sister, aspiring model Aveline and even equipped her with a whistle to use if she attracted unwanted attention.
With its cockney rhyming slang title (bread and honey = money), Bread's recipe of comedy and soap opera made it Britain's biggest show in its heyday, with 21 million viewers tuning in for Aveline's wedding.


Hyacinth Bucket, and her sisters Daisy, Rose and Violet in Keeping Up Appearances (1990)

Hyacinth Bucket, pronounced Bouquet, would doubtless have treated the Boswell dinner table with disdain.

She was much more comfortable emulating the lifestyle of her sister Violet, whose property was widely rumoured to be blessed with "room for a pony".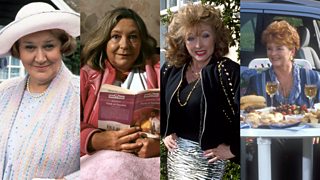 Hyacinth Bucket (Patricia Routledge) and her sisters Daisy (Judy Cornwell), Rose (Mary Miller) and the seldom seen Violet (Anna Dawson)

 

Life as an insufferable snob could be tiring - keeping up with wealthy Violet, solving lazy Daisy's problems, not to mention stopping Rose getting too close to the vicar.

For Hyacinth, things never seemed to go to plan.

Hyacinth tries to divert attention from her sister Rose's indiscretion with the vicar

Denise and Antony in The Royle Family (1998)

Hyacinth would never have set foot in the Royle household, but her sister Daisy and brother-in-law Onslow would have probably found themselves at home.

With no laughter track and little to see except a family gathered lethargically around the TV, The Royle Family was strikingly different from other sitcoms of the time.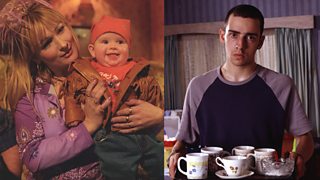 Denise (Caroline Aherne) with baby David, and Antony (Ralf Little)
There weren't many things that could stir lazy Denise, but getting into juvenile spats with her cheeky brother Antony was one of them.
While Denise was painting her nails or having her feet massaged, Antony slaved away making the tea, answered the phone or ran errands.


Michael, Nick and Janey in My Family (2000)

While The Royle Family was lauded for putting a new spin on the sitcom, My Family showed there was plenty of life left in a traditional comedy.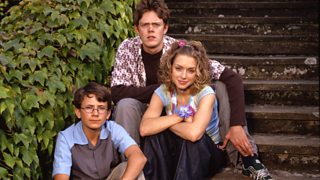 Michael Harper (Gabriel Thomson), Nick (Kris Marshall), and Janey (Daniela Denby-Ashe)

 

The wackiest sibling must surely have been oldest child Nick, routinely sacked from all manner of jobs and completely lacking in common sense.
Nick (Kris Marshall) fills the living room with Christmas trees
Over 11 series, all characters developed and matured – Janey transformed from a shopaholic to a mum and care worker, while Michael grew into something of a manipulator.

 
Jake, Ben and Karen Brockman in Outnumbered (2007)

Aged five, seven and 11 when the show started, Britain watched the Brockman children develop from lovable moppets into wisecracking adolescents.

You could tell whether you were watching a new series or repeat according to the degree of frizziness in little Karen's hair, while Ben's mischief and brazen lies added to the family chaos.
'He started it!': Ben (Daniel Roche) and Jake (Tyger Drew-Honey) sabotage each other's Facebook pages, while Karen (Ramona Marquez) ponders her career prospects
Becky and Laura Williams in Him & Her (2010)
Laura adores her sister Becky but, being very self-centred and condescending, has a funny way of showing it.
She often ruined Becky's dreams of lazing round the flat all day with Steve by popping round to watch the lottery, show off her holiday photos or just talk about herself.
Laura expresses concern for Becky's happiness in her unique way

Laura was especially demanding on her wedding day in the final series.
Becky is surprised at Laura's wedding by her special request

Cathy, Mark, Rory, Dermot and Trevor Brown in Mrs Brown's Boys (2011)
With all the comings and goings in Mrs Brown's Dublin household, it can be difficult to pin down just how many children she has.
We've counted five: there's the oldest, Mark, a carpenter who can't read or write; Dermot, who is usually seen dressed in giant mascot outfits; Trevor, the youngest, a Catholic priest and missionary; and Rory, shown in this year's Mrs Brown movie wearing a mankini that cannot be unseen.
Cathy, the only girl, adds some sanity to the proceedings.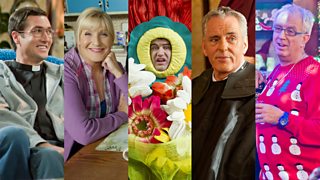 Trevor Brown (Martin Delany), Cathy (Jennifer Hibney), Dermot (Paddy Houlihan), Mark (Pat Shields) and Rory (Rory Cowan)

All five siblings rarely share a scene, but they did get together at Cathy's behest for a family therapy session:

Mrs Brown can't help playing the fool when Cathy tries to get to the root of the family's issues


Tom and Bea Chadwick in Family Tree (2013)
A mockumentary sitcom follows unlucky-in-love Tom Chadwick as he traces his ancestry after inheriting a box of belongings.
Tom (Chris O'Dowd) goes on a date and has an interesting conversation about dinosaurs

He was joined by his sister Bea who communicated with the help of a puppet monkey, Monk.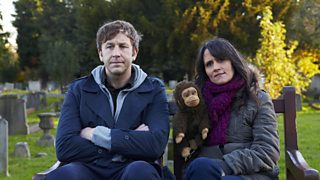 Tom and Bea (Nina Conti) visit their great-aunt's grave with Monk
Monk's frequent foul-mouthed outbursts made it difficult for Bea to hold down any job that doesn't involve offending the public - which turned out to be most jobs.
Luckily she had patient support in her brother Tom.

Hannah and Dan in Siblings (2014)

Finally, meet (probably) the worst brother and sister in the world, who spectacularly wreck the lives of all those unlucky enough to meet them.

Hannah (Charlotte Ritchie) invites Dan (Tom Stourton) out to dinner - but there's a catch...