Comedian Romesh Ranganathan very reluctantly agreed when his mum asked him to explore his Sri Lankan roots for new BBC Three show Asian Provocateur. So, much to Romesh's regret, we gave him and mum Shanthi a call to see what makes their relationship so special…
When is the last time you went on holiday together?

Romesh: Last time I went on holiday with my mum was when we went to Canada to see some family.
Shanthi: When we arrived at the airport, my relations came to pick us up, and the first thing they said was: 'Romesh looks exactly like his father', which brought me to tears. But just spending time with Romesh in Canada was such a wonderful experience. And the way he looked after me when I was there was fantastic.
Romesh: I'm a really good son.
Shanthi: He's a really good boy. He has got so much love in him, but he doesn't know how to express it. But when I went to Canada and when we went to Sri Lanka, I was thinking what a lovely boy he is.
Romesh: You can't put any of this in by the way. I'm going to look like a right idiot.
Shanthi: No I'm telling the truth! It's how I felt as a mother.
Romesh: Yeah but it makes me look like a…
Shanthi: No it doesn't make you look like a mummy's boy. It's an inspiration for everybody because your mother is important to you.
Romesh: Yeah I'm a great guy.
Shanthi: Maybe. I'm very comfortable talking to Romesh about anything. Since my husband passed away we'll have long chats, and he's such a wonderful, kind person and I can ask him anything. I don't feel sad, because when I think about Romesh he's there for me. All the time. It's such a nice feeling.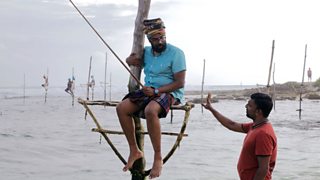 Shanthi hadn't seen how 'gracelessly' Romesh handled his fishing challenge
What's your funniest memory of each other?
Romesh: When we were coming back from Canada, mum's got a Sri Lankan passport, and the guy at customs looked at it and said: 'You don't have permission to return to the UK'. So I told him: 'Well she does, she lives there'. And he said: 'Not according to this passport. She's not allowed to go back to the UK.' And mum just started freaking out!
It was not funny at the time, but it was hilarious afterwards because then he just turned the page and went: 'Oh wait, yes you do'.
Shanthi: Yeah it was shocking!
Romesh: It's like, read the whole document! And mum was just freaking out. She's like (adopts his mum's Sri Lankan accent): 'I'm going to kick him in his face! Read the whole bloody passport!'
Shanthi: Yes that worried me so much, I'm frightened to go to Canada again because of that experience. But the thing is in that moment we couldn't say anything, because he could say: 'No, you have to be investigated' or something. So I kept my mouth shut.
Romesh: Yeah but then afterwards… (in mum's accent): 'I hope that man loses his job!'
Shanthi: I didn't say that!
How did it feel to be part of a show together?
Shanthi: To work together with Romesh I found it very comfortable. He'd tell me: 'This is what we are going to do mum.' So I just carried on. I didn't feel nervous or anything at all.
Romesh: The thing is that the whole point of the show is that we're just like…
Shanthi: Shouting at each other.
Romesh: No not shouting at each other, I mean that just happened to happen, but basically it's not a lot like doing a TV show because you're just having these experiences, and we were chatting about them, and we were just filming it. So it was easy in that regard.
But mum was very good, she just got into it and she wasn't nervous around the cameras and stuff, she was just herself which is exactly what we wanted.
Shanthi: What a compliment Romesh, thank you! I was surprised with myself that I wasn't nervous at all.
Romesh: Let's be absolutely honest mum, you do see yourself having a TV career. The crew told her that she was very good, she started quietly going to me: 'I do believe they think I'm very good Rommy'.
I think for her, in an ideal world, series two would not involve me. It would be a spin-off show where mum's like: 'So we got rid of Romesh and now we can really get into the show.'
Shanthi: No, no, no (laughing) that's what Romesh thinks! But I really enjoyed working with him. It was a fantastic, lovely experience. Sometimes I became emotional, thinking, 'My god, I'm with my son, and they are filming me', and then I have to control myself and get back to reality.
And the other thing is that he went and did all the spiritual things like going to the temple. He's a religious boy. I never forced him to believe in anything. We are Hindu and Romesh always prays before he leaves the home. So I bless him with all my heart. It makes me cry sometimes, he's such a wonderful son to have.
Romesh: I mean, mum, this is way over the top now. I'm supposed to be a comedian!
Shanthi: I'm telling you the truth Romesh, I don't want to hide it. You know sometimes when you are facing each other it's very difficult to express your feelings. You feel embarrassed. But I can't see you now so I can say how I feel about you and the things I wanted to say. It's a good opportunity for me.
Romesh: I think this interview was a mistake, I'm beginning to realise.
Shanthi: Is it? OK. Do you want me to keep my mouth shut?
Romesh: No! I'm joking, I'm joking.
Week one, and Romesh is having his head rubbed with a chicken...
Romesh, your mum describes you as a coconut in the first episode (white on the inside). What fruit would you say you are?
Romesh: I think I'm a mango. Just very sweet and lovely.
Shanthi: How can you call yourself a mango?! Darling you're a coconut I tell you.
Romesh: And I would describe my mum as a pomegranate. No, a passion fruit, like, quite sour.
Shanthi: Oh! Thank you so much.
Romesh: She's a lemon, my mum's a lemon! Put that down.
Shanthi: Well when you do something wrong, I'm the only person who can correct you. Sometimes you take it in the wrong way and you don't like it. But who else is going to tell you?
Romesh: Yeah, alright, thanks mum. You're a lovely lemon.
Romesh Ranganathan is a comedian. He and his mum Shanthi appear in Asian Provocateur.

Asian Provocateur continues on Wednesday, 7 October at 10pm on BBC Three. Each episode will be available in BBC iPlayer for 30 days after broadcast on TV.
Comments made by writers on the BBC TV blog are their own opinions and not necessarily those of the BBC.