I don't think any of us in the production team were prepared for the way Poldark has continued to generate a buzz across social media and in the press throughout its entire run. It's always great to be talked about but this has gone beyond what any of us ever imagined!
The fact that Poldark has been mentioned in connection with anything and everything from the general election...
and scything as a fitness regime...
Poldark seems to be everywhere.
The cast and characters seem to have captured the public's imagination - and we've no complaints about that!
In series two, several exciting new key characters will appear, and there will continue to be turmoil and strife in Ross' business ventures and plenty of challenges to his and Demelza's domestic and family harmony. Across the series there will be catastrophic losses, significant triumphs, and some major shocks.
Ross will again be involved in several activities which work up a sweat. Scything - an integral part of 18th century farming - may be one of them!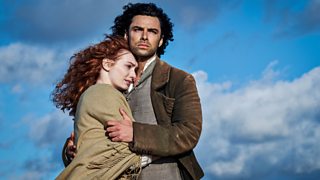 The good news is you don't have to imagine what might happen to Ross and Demelza between now and series two: Winston Graham is very clear about what happens in the interim.
Since series two is based on his books Jeremy Poldark and Warleggan, the key narrative incidents and characters will be similar to those covered in these works.
So those of you who want to be surprised can just tune in for episode one of series two when it returns, and those who can't wait just need to read the beginning of the third book, Jeremy Poldark, and all will be revealed!