Double Agent: The Eddie Chapman Story
Eddie Chapman was a crook, a womaniser, an opportunist and a manipulator. But he was also an unlikely sort of World War II hero.
He was motivated by a strange combination of self-interest, hunger for adventure, greed, bravery and patriotism.
He was freed from prison and trained as a spy by the Germans, but he claimed he always intended to swap sides and spy for Britain.
His handlers at MI5 were not so sure. Hence his codename: Agent Zigzag.
Researching the BBC Two documentary Double Agent: The Eddie Chapman Story, I became more fascinated than ever by his extraordinary combination of qualities, both good and bad.
I wrote Agent Zigzag, a book about Chapman, in 2007, but since then a great deal of additional material about his life has emerged: we interviewed the people who knew him, gathered photographs and footage, and consulted the Zigzag files in the National Archives, the huge trove of documents recently declassified by MI5.
But by far the most important contribution to the programme came from Chapman himself.
Chapman died in 1997, but four years earlier he was interviewed by the BBC for a programme entitled The Underworld: Thieves.
Deep in the archives of the BBC we found a box containing more than five hours of videotapes from that interview, in which Chapman discussed not only his criminal past, but every aspect of his wartime career, his womanising, his sabotage, and his life after the war.
The most extraordinary discovery was just how gleefully unrepentant Chapman was about what he happily referred to as his "villainy".
The unused footage even includes a masterclass on how crack a safe.
With remarkable foresight, the makers of the earlier documentary had decided to keep the camera rolling, despite knowing that by discussing his wartime intelligence work, Chapman was violating the Official Secrets Act.
They anticipated, rightly, that the laws might one day be relaxed, allowing the footage to be used.
Chapman had been gagged during his lifetime - when he tried to serialise an account of his spying in a newspaper, a judge ordered the entire print run pulped - and probably assumed that the interview would never be shown.
This may explain why, as you will see in the programme, he is such an uninhibited interviewee, swearing, cracking jokes, and blithely admitting to all sorts of skulduggery.
MI5 started releasing the Zigzag files in 2002, which means that Chapman can tell his story at last, from beyond the grave.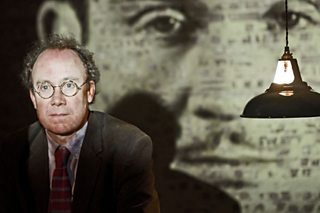 Perhaps the most moving part of Chapman's testimony comes when he describes his love affair with Dagmar Lahlum, a young Norwegian woman he met in occupied Norway - where the Germans sent him on a nine-month holiday as a reward for his successful mission to Britain.
Chapman describes how he encountered Dagmar one evening at the Ritz in Oslo, and how they fell in love.
"We had a great love match and I had the intention of going back and marrying her," Chapman says in the recovered footage. "I'd love to go and see her again."
Chapman was parachuted back into Britain, for a second time, in 1944, with a mission to report back on where Hitler's V1 rockets were landing.
He promised to come back after the war and marry Dagmar.
With his MI5 handlers, Chapman sent misleading reports that caused the Germans to shorten their range, ensuring that many of the rockets landed harmlessly in the fields of Kent.
His mission, as far as the Germans were concerned, was a complete success. The British believed he had helped to save thousands of lives.
But he never went back for Dagmar, who was tried as a Nazi collaborator and sentenced to six months in prison.
In a way, the story of Dagmar perfectly reflects the contradictory character of Britain's most extraordinary double agent: fickle, seductive and staggeringly brave.

Ben Macintyre is the presenter of Double Agent: The Eddie Chapman Story.
Double Agent: The Eddie Chapman Story is available to watch in BBC iPlayer until Wednesday, 16 June 2016 at 10pm.
It was first broadcast on BBC Two on Tuesday, 15 November 2011.
Comments made by writers on the BBC TV blog are their own opinions and not necessarily those of the BBC.