I am the series producer of 21 Up New Generation, the third instalment of the new series of the famous documentary series Seven Up!, which began in 1964, and has filmed with the same group of contributors every seven years since.
At the turn of the millennium, the BBC asked us to make 7Up 2000 to follow in Seven Up's footsteps, with a new generation of children, all turning seven in the year 2000.
The director Julian Farino and I met thousands of children from different social, ethnic and economic backgrounds living all over the UK and chose a group of them to film with.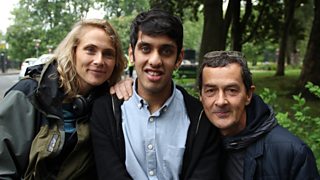 Melanie Archer with contributor Asif and director Julian Farino

The idea was to revisit them with the same production team, to take a snapshot of their lives every seven years.
Here we are already 14 years later. Things have changed so much since we started.
When we made 7Up 2000, I was 26 years old, and had no idea about children, let alone how to interview them.
When one boy, Talan, explained to me how we're all connected in the great circle of life, I thought he was incredibly profound.
Fourteen years and three kids later, I realise he was just quoting from The Lion King.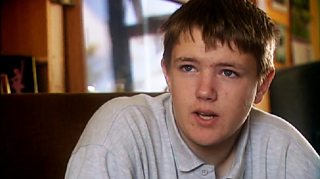 Talan: 'Anyone who has seen any of the previous programmes knows I was a slightly quirky child.'
I was a researcher on the original series when the people involved
reached the age of 42
, so at least I had a bit of a clue what to expect.
I'd seen for myself the unique and intense relationship that had built up over many years between the producer, director, contributors and crew.
But one of the things that struck me was that maybe things change less dramatically in the middle period of our lives, and the contributors were sometimes worried about not having that much to report for their last seven years.
One contributor remarked to me that in the week before filming she had thought, "Maybe I should do a sky dive or something, just so that I'd have something more interesting to say."
Life just goes on.  With our contributors, the differences between 7, 14 and 21 are huge obviously, but those will slow as they settle into jobs, marriage, and parenthood.
We first met Ryan, now a sports studies student, at his friend Gemma's birthday party in Bolton

The contributors to the original series were arguably the first famous 'ordinary' people.
Well before anyone had even dreamt up the concept of reality TV, they were recognised in the street, and had their lives commented on by the newspapers.
It came as a shock to them.
The New Generation contributors are in the main naturally much more comfortable with the idea of sharing their image and their lives.
Some blog themselves, and all regularly use social media.
But it is different choosing to be a part of our series, having to answer our questions, and being asked to analyse and contextualise their lives.
They are opening themselves up to comment and judgement by millions, and they do so because of their trust in and relationship with us as filmmakers.
Although it sounds cheesy, this is the thing I am most proud of in my career.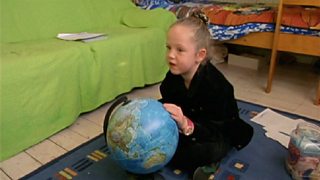 Courtney was fascinated by foreign lands in 2000, and now speaks several languages
We do keep in touch, but it's not a reality show, and we don't hang around for ages, or invade with cameras in between the seven year gaps.
Of course that means we miss loads of really interesting stuff, but the idea is that they'll talk to us about what's happened to them when we do come round again.
Basically it's up to us to try to honestly and intimately capture the essence of their lives - even though we only get to film for a couple of days with each person, once every seven years.
Not a small deal.
It's a strange experience being involved in such a long-term project.
When we were filming this time round, we went to a nightclub with Sanchez where he introduced me to one of his best mates as his "second mum".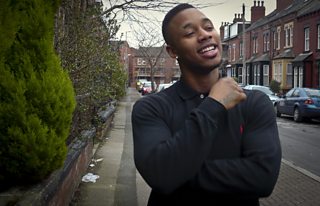 Sanchez: 'My family are my rock. They're there for me and I can't wait to repay the favour'