After deciding they'd had enough of their busy city lives, former 5ive singer Abz Love and fiancée Vicky Fallon bought a farm in rural Wales with the aim of creating a simpler life for them both. But as their show Country Strife: Abz on the Farm shows, it hasn't all been plain sailing...
Was it love at first sight?
A: It was probably love at second sight! There was no spark the first time around. We met at a 'do' that Vicky's pops was putting on because he's in the RAF.
V: It wasn't fireworks… But we met again eight years later - six years ago now. Abz was in a very different place and more humble and I was older and wiser and we immediately fell in love and have been inseparable ever since!
A: We kind of had to go through what we had to go through – do a bit of growing up first!
Describe the moment you decided "Let's move to rural Wales and set up our own farm!"
V: About a year into our relationship we were renting in London and we were so miserable. We live for our animals and we realised you can't really have chickens on a balcony in London. You can't have a horse in a garage – it just doesn't work. The only option was to look at places further afield where we could actually afford to get somewhere with a bit of land. It took us five years to actually accomplish it because we didn't have the means. Then the Big Reunion and Big Brother happened and it got to a position where things were a bit easier.
A: I was looking at moving to Bolivia or Bulgaria, but with my accent, I didn't think it would really work…
V: Wales had such a lovely vibe about it; it looked the part, it had lovely valleys and it's so green, and the people are lovely as well. But also, it's cheap, which helps!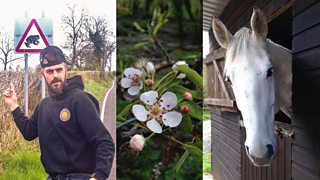 So what were your initial plans for your own farm?
V: Well, to be honest, we didn't think that far. We just needed to get out of the city and back to nature and do something different – we'd done everything there was to do when it comes to city life: night clubs; fine dining, and we needed to get some balance back. We didn't think about what we needed, we just dove in.
A: When I did TV show The Big Reunion, I thought I was a farmer because I grew some potatoes and carrots and stuff, but really I only had a big garden! Here the land is... well, drainage and water logging ain't funny! It's madness!
V: We don't have television, we don't have wi-fi and we don't have mobile phones! We'll have to drive up a mountain to watch the show on BBC iPlayer!
What was the most nerve-racking element of the move?
V: Well the thing I was most nervous about was how we were going to afford anything. I do all the sensible stuff in our relationship – Abz doesn't even open his own mail!
A: I'm right here, I'm right here!
V: He just kind of floats through life, waking up, maybe going out in the garden and doing a bit of weeding, while I'm up on a mountain trying to sort out our financial stuff out!
A: I think we all know you don't know somebody until you've lived with them without wi-fi and I think we've passed that border now – I was really nervous about that because we were really hard on online, you know, high speed internet. But now we play scrabble and have conversations! My highest scoring scrabble word recently was viscount.
V: He's been on about that one for weeks!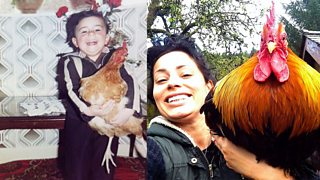 Left: Abz holds his first chicken as a child. Right: Vicky with their cockerel, Nando
Abz, when you were in 5ive, did you ever imagine your future would be in farming?
A: Definitely not, man! Milking the cows and talking to my neighbour about how to make a basket out of willow and hazel? Like, what!? Everything feels real. Sometimes in the city I felt no connection to nobody or anything, but out here it feels like there's a duty to look after our little part of the planet.
V: It's definitely different to our old life, but it's definitely not boring.
Did you ever get to a point where you thought: 'Let's go back to London'?
V: At Christmas there were definitely a few 'Oh wow, what have we done' moments. It was cold and windy and there was snow. We were learning how to cook on the stove, which we also used to heat our house. Our whole existence over winter was just starting fires and trying to keep warm.
A: It was too much this one time - the wind was slapping my face, I was knee deep in mud in the field and I looked up to the sky and was like: 'Why god, why?' It was a proper Biblical moment – like a flood was coming!
V: Abz has an overactive imagination! We were really feeling the pressure and we were rowing. Thank god we didn't think it through more, because I think if we'd have known it was going to be that hard we wouldn't have done it.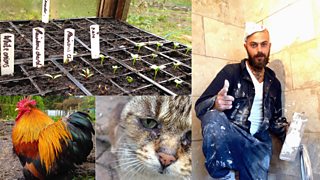 You're clearly big animal lovers – tell us about some of the farm's residents?
V: The dogs are our babies! We take them everywhere!
A: We've got two horses who are far too big for us and they're churning up the paddock. We should probably have got smaller horses…
V: We probably should have got no horses! But that's the big debate right now – do we persevere with the horses, or is it not practical where we are… it's quite a sensitive topic! We also had nine chickens, but we've only got four left because a fox outwitted us.
A: We have three feral cats. They're eating well – organic cat food – they're eating better than me!
V: We thought they could catch mice on the farm, but we've fed them too much. Now they're inviting other cats!
What's the future for the farm?
V: It doesn't have to make us rich, but I'd like it to get as self-sufficient as we can. I'm growing a variety of stuff and we're thinking of maybe trying truffle hunting!
A: I read that a white truffle went for a cool million!
V: We have not got a flippin' clue what we're going to do, but the goal is to try and find out. Abz has got to go out and try his hand at different things.
A: I'm enjoying working with wood so I might get into woodwork. I've made a decent mallet! And I've made an egg holder…
V: It's basically a chunk of wood with some chiselled out grooves for the eggs.
A: It's very authentic looking and rustic. I've also made a shelf…
V: …But it can't go up against the wall.
A: And I've made a table out of an old window!
V: That was pretty cool!
A: I just need to think of a company name… Maybe Woody!