Our War: Dealing with death on the frontline in Afghanistan
In April 2007 I was the officer commanding 3 (Corunna) Platoon in Helmand, Afghanistan.
Due to the events surrounding the death of one of my men, Private Chris Gray, on Friday, 13 April, I was approached by BBC Three to contribute to the programme, Our War.

My platoon sergeant Si Panter had already recorded all the frontline footage used in Our War on his helmet camera.
As a keen mountain biker he had always liked recording his outings on camera and transferred this passion to our six month tour of Afghan, as we called it for short.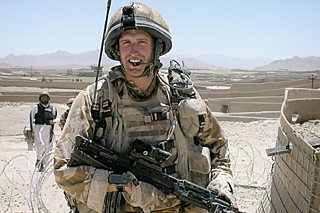 To the observer it would appear that there were a lot of inexperienced soldiers in my platoon that day.
This is true, but even for some of the seasoned soldiers like Billy Moore, who was shot in the arm in the 'contact' (engagement with the enemy) featured in the programme, this action was like nothing they had experienced before.
Up to 60 per cent of the men in a platoon will have changed by the next operational tour so there is always likely to be a high proportion of inexperienced soldiers in the platoon.
I know the Gray family have seen the programme and are proud of the portrayal of their son. He was a great soldier - something which is often said about the dead, but he truly was.
He showed such potential at an early stage in his career that I was keen for him to go on a promotion course on getting back from Afghan.
In the film, Private Tony Cowley mentions that there were nine empty seats on the flight home. This was true as we had lost nine men from the battalion (which contains nine infantry platoons) during our tour.
Some would say we were fortunate in my platoon to only have one killed and one wounded.
After the action in the programme, we went without a further casualty for the whole remaining six months in Helmand. Other platoons weren't so lucky.
After Chris was killed, while still on tour, I decided to write to Chris' mum, Helen. While my training had not covered the writing of 'death letters', I felt it my duty to do so.
The letter I wrote to her was an outpouring of every factual detail I could lay my hands on.
I wanted Chris' family to know everything as I thought it highly likely I was going to 'get it' myself in the next contact.
In hindsight, and as you'll see Helen say in the programme, the detail in the letter was too much for her.
Although my company commander checked the letter and approved it to be sent, it conflicted with the version of events given to Helen on first learning of Chris' death by those in England.
Although an innocent mistake, this had long-reaching and devastating results, which I felt responsible for.
In the programme, I struggled to read the end of the letter to camera because I hadn't read it since the day four years ago I put it in the mailbag to go on the helicopter.
Reading it unlocked a lot of emotions I thought I had got over.
The phrase "a lot of young boys turned to men" was the one that really got me. It was the thought of the lost innocence, I think.
I have had the pleasure of meeting Chris' family on a couple of occasions. I was concerned about how I would be received by Helen after the rejection of my letter.
When I met her for the first time, she simply walked straight up to me and gave me a hug.
That said more than any words ever could. In that moment a lot of wounds were healed for me.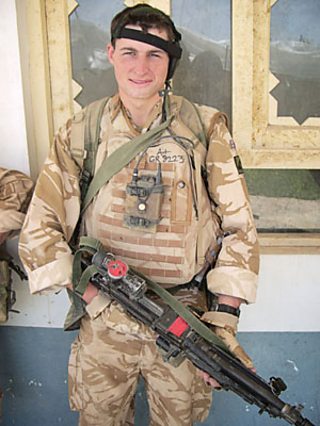 I can remember discussing with one of my fellow officers whether Chris' death was 'worth it'. The gains made on that operation appeared slight to us for the loss of his life.
The truth is I can't go there emotionally - it's too painful to think that it wasn't worth it.
After all, at the time I did genuinely feel the gains we made whilst in Helmand were worth our sacrifices. I think you have to in order to cope.
The Army is a lifestyle choice. If you are not prepared to submit to the demands of that lifestyle then you should leave.
After serving my minimum four-year commission I elected not to extend and left to take up a new career in teaching.
I was content that I had gained some invaluable experience leading men on operations and now have some interesting memories to bore my pupils with.
People ask me if I miss the Army. The simple answer is yes, particularly when I meet up with guys from the battalion who are still serving. I try to stay in touch with them as much as possible.
But I am also grateful for the control I now have over my life by not being in the Army.
I often find myself looking back on the action in Afghan with rose-tinted spectacles, forgetting the uncertainty and confusion, just remembering the action and adrenalin rushes. I suppose that is just human nature.
If I were able to say something to Chris now it would probably be, "Watch out, your mate and fellow soldier Matt Duffy is after your sister!"
Editor's note: Chris Gray's good friend Matt Duffy, who appears in Our War, is now engaged to Chris' sister Katie.
Bjorn Rose was an officer in the British Army during the making of Our War. He is now a history teacher.
Our War starts on BBC Three at 9pm on Tuesday, 7 June. For further programme times, please see the upcoming episodes page.
You can watch exclusive short films from those affected by the war in Afghanistan on the Our War programme page.
Comments made by writers on the BBC TV blog are their own opinions and not necessarily those of the BBC.