What I love about being in Outnumbered
The funniest moment of filming the third series of Outnumbered was when there was a rather confused pigeon flapping around the family kitchen. It was absolutely hilarious to watch the pigeon's trainer failing to maintain control and even funnier watching Dan squirm and yelp any time the pigeon came close.
But I think I'd have to say my favourite scene of series three was one featuring myself and Kelly, a young good looking waitress that Jake has his eye on.
It was filmed in a tiny little corridor and it was a real squeeze to get two cameras, a boom and its operator, and the clapper-board loader all in such a small space. The gist of the scene is that Jake is infatuated and he and Kelly literally bump into each other in this small corridor and it's really awkward.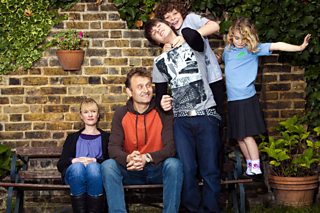 The bits that I enjoy most about filming Outnumbered are the people and the food. On set we are all just like a big family. Everyone is lovely and having spent seven weeks with them day in, day out, it's truly sad to have to say goodbye to everyone at the end of the series.
But OH MY GOD, the food! We have an amazing cook called Pam and every single day we're served delicious meals. My personal favourite is her heavenly banoffee pie.
The way the improvisation works with Jake is that one of the directors would come up to me and give me a script a few minutes before the scene, so I have time to familiarise with the script but not to memorise it.
Maybe halfway through filming the scene they'll suggest we have a chunk of improvisation, which consists of the camera running, while the actors basically say whatever they want - usually it's hilarious.
The number of takes needed to finish a scene can differ extraordinarily depending on the complexity of the scene, how many actors are in it, how many camera angles are needed and the surrounding environment etc. But usually I'd say we finish a scene in five takes.
I think at first most of my friends were a bit overwhelmed when they saw me on TV but now they've just gotten used to it and think it's really cool.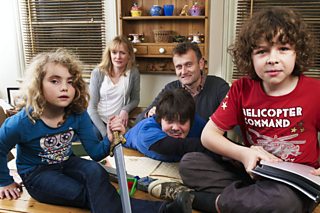 One of the reasons why I think people like the show so much is, because first and foremost, the writing is brilliant, with storylines that everyone seems to be familiar with. Also, the improvisation aspect is quite unique and I think the cast members all work well together.
I'd like Jake to get a serious girlfriend, and maybe I'd have an on-screen kiss! And perhaps Jake could get really, really drunk. It would be really fun to play him drunk - it would be just acting, obviously!
Jake isn't really that much like me in real life. In series three he becomes very teenage and moody - I'm not really that bad!
Tyger Drew-Honey plays Jake in BBC One's Outnumbered