My Hollow Crown character is leading his own revenge film
The next chapter in the TV adaptation of Shakespeare's history plays, The Hollow Crown: The War of the Roses, explores some of the writer's best-known royal characters. But you might be surprised to find that some less widely recognised characters really court our attention in Henry VI and Richard III.
Here to explain the who, what and why about his character, Clifford, is Poldark actor Kyle Soller.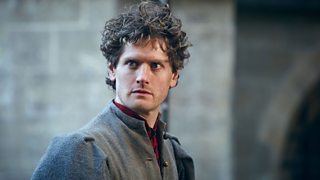 Clifford is a leading soldier of rank in the Lancastrian army, who are fighting to hold the crown against York. His father is murdered by the Plantagenets, who lead York's army, which spurs Clifford on an all-out mission of vengeance against the Plantagenet family.
His journey eventually leads him to a confrontation with the ruthless Richard III (played by Benedict Cumberbatch) on the battlefield.
It was really fun to play someone who was sort of in his own revenge film. But he has redeeming qualities - I suppose his are loyalty, honour and bravery towards family, king and country.
I'm American, and first got into Shakespeare when I was at college in the United States. I was taking courses at the Shakespeare Theatre in Washington D.C. on the weekends. I'd take the train up Friday evening, go to class Saturday morning and then get the train back to make the Saturday night parties on campus.
Those classes are what influenced my decision to come over to London and train at RADA. So working on a project like The Hollow Crown feels really special.
I also really like working in an English accent. It makes me work and think differently and it certainly opens up casting opportunities to roles I never thought I would play. I've got RADA to thank for that.