The Indian Doctor: Filming in a Welsh village
The Indian Doctor is about Prem Sharma, and his wife, Kamini, who arrive in Britain in the summer of 1963. Rather than the bright lights of London, they are posted to a small Welsh mining village, taking over from the previous doctor there, who has unexpectedly passed away.
There, they encounter the curious villagers and the local English colliery manager, Richard Sharpe. He is most worried about a missing diary, belonging to the previous doctor, that may have incriminating evidence against him, linking the awful conditions in his mine and unusually high rates of lung disease.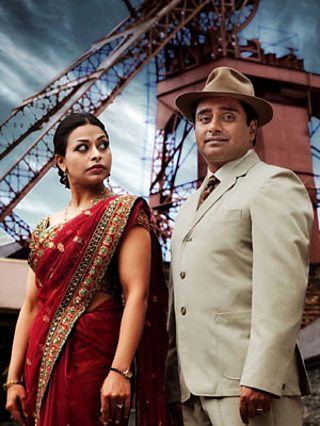 I first got involved after the producers Deep Sehgal and Tom Ware approached me about 18 months ago. I thought too that it would make a really watchable drama.
I was particularly drawn to the 1960s and that, historically, many doctors from the Commonwealth were invited to Britain to support the relatively new NHS.
Of greater irony was that it was Enoch Powell who was seen to be doing the inviting.
Many members of my family arrived here at that time, so I recalled their stories and plundered their memories to get an idea of the kind of attitudes they faced but more importantly, what their emotional responses were.
I also spoke with a retired Indian doctor who did arrive in the 1960s and practised in a Welsh village (where he still lives), which was invaluable.
The biggest problem, he told me, was understanding the accent (ironically!) and the colloquialisms the locals used. Most Indians had learned very traditional English and had only heard the Queen's English at that.
Though the story does involve race, I don't think it's about racism. It's more about curiosity and preconceptions.
I experienced a degree of racism, particularly when I was at school in west London but I got it from both sides - the Asians and the white kids. There was a lot of racial tension at the time.
Racism, though born mainly out of ignorance, is just another form of bullying. So anyone who's been victimised or intimidated for something that they have no control over, should be able to relate to that.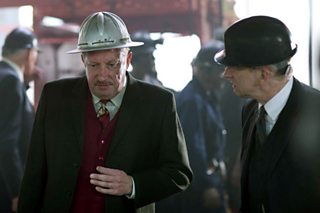 The difference in our Welsh village is that it is small enough for people to get to know the Indian doctor and so even if people do have ignorant notions about him, the opportunity to dispel them is that much quicker.
The predominantly Welsh cast and crew seemed to have worked with each other many times before, especially on Welsh language dramas, so were very familiar with each other.
They were incredibly welcoming and warm towards me which made going into work every day a total pleasure. The crew were amongst the finest I've ever worked with.
I became aware of a collective approach to problem solving that doesn't happen very often in filming. Usually, different departments have to solve their own problems but here everyone pitched in.
I'd worked with Ayesha Dharker (Kamini) in a couple of movies and a mini-series and Mark Williams (Richard Sharpe) too. In fact all three of us were in Anita And Me.
Ayesha is one of the most instinctive and subtle actresses I've ever worked with so I always feel I have to raise my game with her. Mark is a man who can just about play anything. Supremely gifted, razor wit and annoyingly intelligent.
Off set, he's incredibly funny but also interested in everything. Having been involved with Harry Potter for the last 10 years, he's as comfortable conversing with kids as he is with grown ups. I think I fall somewhere between the two.
When you're filming, the script is a fairly organic thing (challenging to the writer!).
There are things that you discover aren't clear or don't work only when you get to the location or the set. Bill Armstrong had delivered a great script with lots of interconnected stories, the overwhelming majority of which is what we filmed.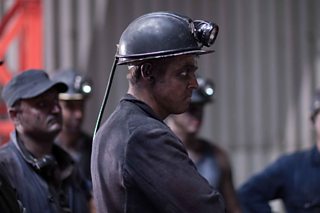 The most important thing is for the actors to own the dialogue so minor tweaks were made with the blessings of the directors (Tim Whitby, Deep Sehgal), sometimes on the day. This is normal though.
There were so many highlights - it was probably the best telly experience I've had in the last five years. I tried to learn two Welsh words a day. Everyone from the make up department to sound and cameras pitched in with suggestions - that was fun.
No lowlights I can think of at all, but the 'oddlight' was driving to Cardiff from London and having to pay the toll when you cross the Severn Bridge. I couldn't shake the feeling that I was entering a giant theme park called Wales.
Daytime drama has always had an odd association to it. I suppose people immediately think of an Australian soap and assume that this can be the only tone.
However, recent compact dramas with strong writing and experienced actors, directors and writers such as Missing and Land Girls do suggest that the production values are much higher than merely a soap, which in itself suggests a production line approach to drama.
The main challenge for a daytime drama (apart from having to do everything on a miniscule budget compared to primetime dramas) is having to take into account the range of viewers that may be sitting in front of the box at that time of the day.
I record a lot of programmes, or watch them on iPlayer, so when they're on means a lot less to me than it used to. We would have, no doubt, approached some of the subject areas differently if the show was going out at 9pm, but I hope with the same charm and attention to detail.
I'm really proud to have been involved in such a collaborative, fun effort. All the credit goes to the people behind the cameras. Even the catering was great.
It was probably the most ego-free environment that I've worked in for ages, so perhaps proud is the wrong word. Privileged would be better.

Sanjeev Bhaskar plays Dr Prem Sharma in The Indian Doctor.
Series one of The Indian Doctor was broadcast on BBC One from Monday, 15 November 2010.
The whole first and second series will be available to watch and download in BBC iPlayer until Thursday, 28 April 2016.
Comments made by writers on the TV blog are their own opinions and not necessarily those of the BBC.