Liz Bonnin's most memorable experience filming Nature's Epic Journeys
There were so many breath-taking moments during Nature's Epic Journeys but I think the most enduring one for me was watching Nxai Pan, a 2,500km squared salt flat in North-eastern Botswana, come to life during the rainy season.
We arrived at the end of the dry season when the entire pan was dry and cracked, and the place appeared devoid of any life. But with the arrival of the rains, the power of Mother Nature thundered down upon it.
The steel sky began to flash with lightning in the distance and the rains descended upon the arid flats with such force that the entire area flooded at first.
In a matter of days, the electric green hue of new vegetation began to spread and an abundance of insects, birds and mammals began to appear in the most extraordinary fashion – you couldn't help but wonder where they all had been hiding.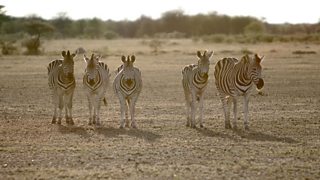 It felt like this incredible celebration of wildlife had begun, the entire area was transformed. It burst into life, and we were the privileged spectators.
The zebra that we were following here were also part of this gathering and because they seem to time their migration south from Chobe National Park perfectly, many were giving birth in the pan just as the freshest most nutritious grasses were pushing through the earth.
I'll never forget watching a new born foal, just minutes old, getting on its feet for the first time. Its mother was gently nudging it, with the stallion proudly standing watch, keeping all others away with loud snorts and hoof stamps.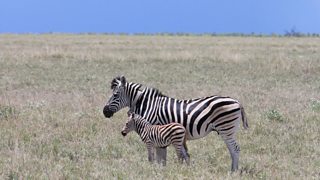 The frail, delicate little foal, its hair still wet, was on its feet one minute and fast asleep from the excitement of new life the next.
The other members of the herd gingerly approached the mother and foal when the time was right, and finally after an hour or so, the little one had the energy to skip off into the shade of the tree line with its mother, as the sun climbed higher in the sky.
It was such an incredible moment to witness, and for me it encapsulated everything that these mammoth migrations are about.
These animals take on so many seemingly insurmountable dangers and obstacles, risking their lives each year, so they can give the next generation the very best start in life.