How we brought River's imagination to life
We showed River's series creator, Abi Morgan and lead director, Richard Laxton, this clip from their new BBC One drama to see how they reacted watching it back. Read on to find out what they had to say…
ABI: I think the character of Thomas Cream - a manifestation of a former Victorian serial killer – represents the darkest part of despair for John River. And for me he's a marker for the opening of the series. He shows us that River is really in the darkest place. The tone of it was meant to feel like this is a man who's trying to hold it together and failing. And Cream becomes the voice of the darkest part of his subconscious.
For me this is a sort of 'out of reel' moment. And yet it feels placed, because you're just given a moment of it and then you take him away. So it's just telling audiences this is going to be something slightly different, you haven't seen it all yet. And it shows the range of what you can do with River and his imagination.
RICHARD: When I read the script, I believed this man was having these experiences. So as the director the first thing for me to do was to find a way to make this feel completely dramatic and authentic but also make it real for that character.
When I first read Cream's character, I remember thinking: 'I should find this really alienating as a device', but I feel, in the writing, it's incredibly engaging. And it's also putting the audience in a very privileged position. River, who we are asking you to get to know and fall for, has these experiences and you must understand what that's like. It's communicating that emotional state and it's from that philosophy that every decision falls out.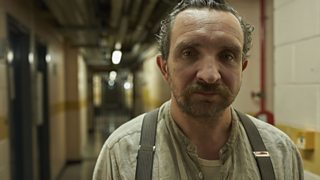 Eddie Marsan's character Cream must be 'exorcised' by River during the series
ABI: Cream was a really important character because he was the place to go to when you needed to screw the show up a bit and take it away from the convention of a cop show really. Eddie Marsan, as a performer, is so dangerous. You feel like he's a grenade about to explode and it's so incredibly useable to express River's inner ticking time bomb.
Richard and I talked about how we were going to make this Victorian character exist and breathe in what is an inherently contemporary look of urban London and the City. So it had to be done very lightly, and somehow I think it really comes together.
RICHARD: We had to balance how Cream looked – we didn't want a top-hatted, tail-coated Victorian man - but we wanted it to be obvious that he wasn't dressed in jeans and a t-shirt.
But it was also Eddie's performance. He viscerally played that character's truth. He's a clever actor, he knows what his character's doing and he owned the character.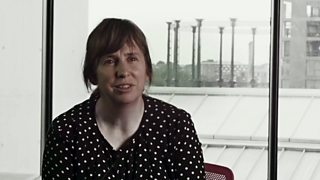 Abi Morgan also wrote The Hour and new film Suffragette
RICHARD: We did some work in post-production to create the voiceover, partly because – I have to take some responsibility – I'd protracted River's walk through this corridor, the bowels of the building, and we wanted the audience to be clear about who Cream was.
ABI: Often your greatest artistic choices are just because you need clarity. We just needed to place him to feel like he comes out of the book that River's been reading. He sort of steps out of the pages.
RICHARD: And what we did with him – actually with all the manifests – we took out the ambient sound. Just to bring that experience into River's head. And I'm pleased with that, having watched it some time after. I still think it was the right thing.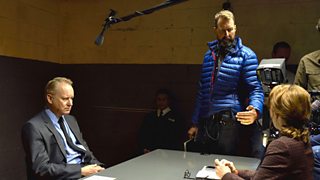 Stellan Skarsgard and Lesley Manville film scenes under Richard Laxton's direction
ABI: When I wrote the first episode, I didn't know who was going to play River. But as soon as Stellan Skarsgard came on board I really started to write for him. He's an extraordinary actor in terms of his range, and my concern with River's character was that an audience could be quite exhausted by it, because he's in every single scene. And when you put an actor under that much scrutiny, like us all, you see the tricks. But Stellan somehow doesn't have the tricks. I think it's because he comes into every scene really fresh and ready to play with it.
RICHARD: Stellan as a man is incredibly compassionate, mischievous and opinionated, in the most lovely way. And I think that part of his nature means he can play that character. Because there's no ego in that, he just wanted to do good work. He cared about it. But also his sound, and his look to a certain extent, he feels like someone who is different. And of course his character feels isolated. So storytelling-wise I think it's a great thing.
ABI: I also think his casting is endemic of the fact that the piece is about interlopers. It's about London, where everybody's from somewhere else. So I felt quite comfortable about having him there. And as long as you place that in front of an audience and kind of say 'we know he's Swedish as well' [laughs] then you will trust us and you'll go with it. The plot in a way is about people who don't quite fit.