Hilary Devey: Becoming a Dragon
Being told that I was going to be a Dragon on Dragons' Den was one of the highlights of my life, as I had been a fan of the show for many years.
In the late 1990s, I founded Pall-Ex, a distribution network that revolutionised the process of transporting goods across the UK and Europe, making the movement of smaller consignments of palletised freight quicker and more cost-effective.
The success of my business, and perhaps the incongruity of being a woman CEO in a traditionally male sector, led to my being asked to speak at various charity events and business functions.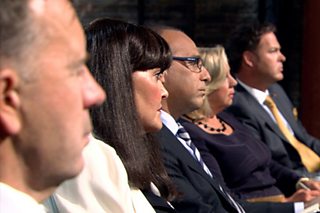 The Dragons: Duncan Bannatyne, Hilary Devey, Theo Paphitis, Deborah Meaden and Peter Jones
Though nervous at first, I discovered that I had a flair for, and enjoyed, communicating my beliefs about business, encouraging others to achieve.
I realised that people were genuinely interested in hearing about the often difficult professional and personal events that I had encountered on the way to the top.
It was this, I suppose, that led to the call from the BBC.
Though it is an entertaining programme, and, let's face it, some good business ideas do slip through the net because the entrepreneurs fudge their pitches or the sums just don't add up, Dragons' Den does get people thinking about self-reliance, sacrifice and having the guts to develop a business idea and then be brave enough to hold it up for scrutiny - for better or for worse!
It's hard to pick any specific pitch from a previous series as being my favourite, but the ones that are the most memorable are those where the would-be entrepreneurs have the personality to match their product - Levi Roots, of course, being the best example.
Gone are the days, particularly in retail, where a founder or CEO can get away with being anonymous and hide behind a desk.
The general public wants to buy into the passion of the creator as much as they want to believe in the physical product.
I like to think that if the younger me had stood there in the Den in front of these intimidating business people, I would have held my nerve, done my homework, and certainly I could have done with the support when I was starting out.
A trailer for the new series of Dragons' Den
I didn't really know the other Dragons too well before filming, but they were all really encouraging to me as the new girl.
I admire Deborah Meaden a great deal, and I don't think that the fact that we were the women in the Den meant that we behaved so differently to the men when it came to making investments.
After all, I did not succeed in business because I was a woman. I succeeded because I was determined and tenacious.
If anything informed my decisions when it came to investing, it was experience gained within my own business.
We have been involved with the nationwide transport of just about every type of freight under the sun, and so I have insight into a number of different sectors.
I shouldn't give anything away about which investments were made on the show, but I can say that I went for some companies which surprised even myself, so it is going to be fun to develop them.
It's an intense atmosphere in the Den, and a lot of entrepreneurs do suffer from nerves, but I like to think that I was one of the more tolerant and patient Dragons when it came to encouraging people to get to the end of their pitches.
However, I had a lack of sympathy for those who stood before me with dodgy figures or ludicrously over-inflated valuations of their own businesses.
You only get one shot in the Den, and however charming you might be, get your sums wrong at your peril.

Hilary Devey is a Dragon on Dragons' Den.
Dragons' Den is on BBC Two and BBC HD on Sunday, 31 July at 9pm.
For further programme times, please visit the upcoming episodes page.
You can press red after the show to get the inside story on the investments made in the Den.
See the BBC News profile on Hilary Devey to find out more about the new Dragon.
Comments made by writers on the BBC TV blog are their own opinions and not necessarily those of the BBC.