The Bridge: Live web chat with Hans Rosenfeldt
Hans Rosenfeldt is the lead writer and co-creator of Danish/Swedish crime thriller, The Bridge.
He will be answering questions live in the comments below after the series two double bill finale on BBC Four.
The comments will open before shortly the web chat starts at 11pm on Saturday, 1 February and will finish at midnight. Hans won't be able to answer every question submitted and we also ask that questions and comments fall under our house rules.
So get your questions ready as Saga and Martin race against the clock to prevent a disaster.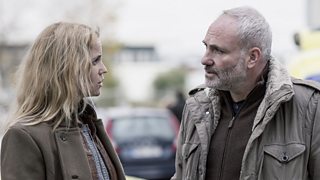 Saga Norén (Sofia Helin) and Martin Rohde (Kim Bodnia)
Thank you for all your comments. To read Hans' replies please see the Editors' Picks below. 
Apologies to all our new users for the delay in their posts appearing, we're working to get comments and replies up as quickly as we can.
More on The Bridge
BBC TV blog: The Bridge: Writing my favourite scenes
Comments made by writers on the BBC TV blog are their own opinions and not necessarily those of the BBC.