Watching cheeky baby elephant Moyo invade her human carer's home in BBC One's Nature's Miracle Orphans is a moment of joy. Although it takes some guts (and possibly a touch of madness) to make caring for orphaned wild animals your life, Roxy Danckwerts' love for each animal is so apparent, and so easy to understand.
With elephants, a gnu, cheetahs, lions and more raiding her family home constantly, what is it about this life that keeps Roxy going?
We have about 100 animals at our Zimbabwean sanctuary, Wild is Life at present. There are 15 different species, ranging from a hand-raised squirrel (the most dangerous animal on the property, he bites like a terrapin!) to the elephant family.
Moyo shows us who's in charge in a clip from Nature's Miracle Orphans
We had 10 elephant calves through the nursery last year, so our hands are very full indeed. Young calves need constant monitoring and every night, I set my alarm for every two to three hours to go outside and check their status. It is exhausting indeed. I am getting far too old for it!
When Moyo was tiny we all thought she was a boy, but now know she is a she. The most important thing is she is well and healthy.
Moyo has a number of brilliant handlers who are with her 24/7. That being said, I am an integral part of her life. She knows my voice, my smell and somehow knows where I am at all times. How, I have no idea!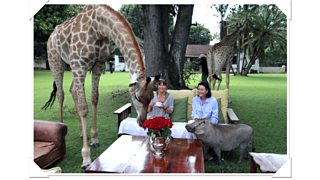 Presenter Lucy Cooke meets Roxy for an animal-friendly tea party
Moyo is just as important to me, as I am to her. She is one of those animals with whom I have formed an extraordinary bond of friendship, trust and love.
I have had these close relationships with other species, particularly a lion named Bones and a kudu named Sweetpea. However, this thing with Moyo goes far, far deeper than those bonds. There is something otherworldly about it - I am finding it difficult to explain!
I am a highly emotionally charged being. It's a worry! I am very anxious about the reality of release into the wild, especially for Moyo. Letting go will be hard. However, I am so determined and so sure of this road that I have chosen.
All parents want the best for their children. I want the best for the elephant children, and that best is freedom to roam and to make their own choices. So, yes, I will probably have a nervous emotional collapse (one of many) but that does not deter me from pursuing this goal.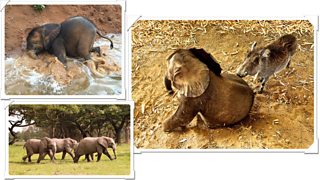 Moyo's companion, Josephine, is the most special kind of dog! She was rescued from a shelter, when I felt that Moyo needed a friend to try and lift her spirits. She and Moyo bonded instantly.
She now lives with the ellies and goes out with them on their daily excursions to the bush. She is totally fearless and very protective of her beloved pachyderm friends.
When a new baby elephant comes in, she is right there beside it. She sleeps in the stable with any new or sick ellie. She loathes the lions though! I think that Josie loves her life with the elephants, particularly Moyo. She can often be found inside her stable, fast asleep next to her.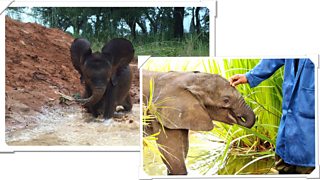 I am remarkably lucky to have such an understanding human family. I have two grown sons, who have tolerated the invasion of their space with supreme generosity. My poor husband is extremely long-suffering. He puts up with my nightly excursions to the nursery and the all-pervading aroma of things elephant.
One of my absolute favourite times is when the ellies are quietly browsing in their stables. I can look out over the plain in front of the nursery and really appreciate how surreal but wonderfully generous this life of mine is.
The pain and heartbreak of losses seem to melt into the background and I am mindful, in this moment, of how extraordinary these forgiving and empathetic animals are. And how I will do whatever it takes to protect those that I can.
Roxy Danckwerts runs the Wild is Life sanctuary in Zimbabwe.
Nature's Miracle Orphans starts on Sunday, 7 February at 5.35pm on BBC One. Each episode will be available to watch in BBC iPlayer for 30 days after broadcast on TV.
Comments made by writers on the BBC TV blog are their own opinions and not necessarily those of the BBC.