Caligula With Mary Beard: The man behind the infamy
Caligula has gone down in history as the worst Roman emperor ever: pervert, sadist and probably completely bonkers.
That's one of the reasons we decided to make a documentary about him.
We wanted to take a look at some of the famous stories (having sex with his sisters, making his favourite horse into the Roman equivalent of "prime minister") and see if we could work out if they were true. Or were they just nasty gossip and rumour?
What does the origin of Caligula's name reveal about his legacy?
The truth is we can't always be sure. We have very little idea about what our own next-door neighbours do in their bedrooms, so there's little hope of knowing for certain what Caligula got up to in his.
But in the process of investigating, we discovered that much more - and much more vivid - evidence about Caligula survived than even I had ever realised.
One of my own favourite glimpses of the emperor comes from a surviving eye-witness account of Jewish ambassador going to him to plead for Jewish political rights in Egypt.
Annoyingly, he turns out to be more interested in discovering why Jews don't eat pork (and besides his mind is more on how he is going to give one of his many luxurious imperial properties a make-over).
And we managed to go to all kinds of places where Caligula had spent part of his short life (he'd been assassinated before he got to be 30).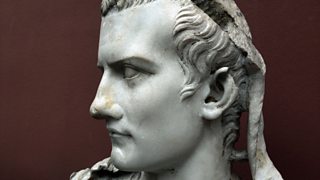 Caligula's bust at the Ny Carlsberg Glyptotek, an art museum in Copenhagen, Denmark
Best of all was the beautiful Lake Nemi just outside Rome, where Caligula kept two vast pleasure barges - really floating palaces.
These were brought up from the bottom of the Lake in the 1930s, then destroyed in a fire in World War II.
But quite a lot of the hardware still survives, including some vast lead pipes (feeding the hot tub?) with Caligula's name stamped on them.
And I was busting to film what looked like a massive imperial bath plug, but the lock on the museum case had jammed and we couldn't get it out or see it properly.
In the end, there was far more great evidence than we could possibly fit into an hour's film.
I'm still sad we couldn't squeeze in the marvellous inscription from Turkey which record how the little Prince Caligula made a brilliant public speech – aged six!
Professor Mary Beard is a classicist and the presenter of Caligula With Mary Beard.
Caligula With Mary Beard is on at 9pm Monday, 29 July on BBC Two and BBC Two HD. For further programme times please see the upcoming broadcasts page.
Comments made by writers on the BBC TV blog are their own opinions and not necessarily those of the BBC.