Eight things blogger Grace Victory learned at London Fashion Week
So it's been a whirlwind, but also one of the most exciting weeks of my life. My first-ever presenting gig went live last night on BBC iPlayer and this morning I have to pinch myself because I can't quite believe it's happened. Presenting was amazing, an experience I will never forget, but it was blooming hard work! So today I thought I would share with you what the experience taught me.
1. Presenting is harder than it looks
Remembering your lines, remembering what camera to look in, plus looking like you're not about to fall asleep is actually a pretty huge task. Walking around for hours on end and shooting the same thing seven times to make sure you've got what's needed is mentally and physically draining. Two days of filming felt like a year's worth of work, haha.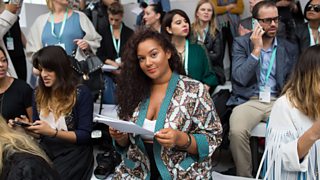 2. Backstage is exactly how you think it's going to be
Hair and make-up mayhem, people running about everywhere, someone shouting and clothes being steamed on rails. Everything I imagined would happen backstage became a reality. I felt a little like I was in the way to be honest!
3. High fashion is not for me
Although I absolutely loved the catwalk shows and seeing where trends come from, I am most definitely a high-street girl through and through. Designer items are just too expensive, and I genuinely like the high-street version of high fashion designs. Does that make me cheap? Maybe so, but fashion is personal and I can look fabulous wearing affordable brands.
4. I can achieve anything
Never in a million years did I actually think my dreams would come true. I obviously hoped and prayed they would, and of course I believed in myself, but to think at 25 I am presenting for the BBC and doing so many exciting things - it completely blows my mind.
I suffer with anxiety, and at the moment it's really bad, so sometimes whilst filming I felt completely overwhelmed and out of my depth. I had to remind myself that this is what I am meant to do and to just work hard and enjoy it. I grew up on a council estate and I've faced many struggles in my life so to be where I am right now, to be doing what I'm doing… I am so SO thankful!
5. I have to learn to like coffee
When you're up at 5.30am ready to start filming for 7am, running around London until 10.30pm, coffee will indeed become your best friend haha. Thinking back to being on set and how much energy I needed for each scene, I'm starting to wonder how I made it through – it's got to be adrenalin.
The crew, who I absolutely loved (we're all mates now), were lugging around camera equipment all day and still had time to laugh and banter with me. I'm pretty sure coffee is the answer to everything when you're on set haha. I wish I liked it :(
6. Designers are so nice!
I was extremely lucky to be able to go backstage and meet the designers. I was apprehensive and a little nervous, I wasn't sure what to say or how to act, in my mind they were going to be stand offish and maybe a little stuck up but I was completely wrong.
My favourite, my ABSOLUTE favourite was Markus Lupfer. I left his presentation calling him my new best friend – that's how great he was. He was humble with a slight vulnerability. He showed me around his venue and thanked me for making him feel comfortable during our interview. Meeting Markus was definitely one of my highlights!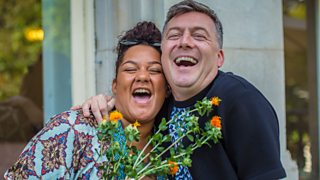 When Grace met her new BFF, designer Markus Lupfer
7. London Fashion Week uses very petite models
I'm sure everyone and their mother knows it but seeing it for myself still shocked me. Most of the models I saw walking the catwalks were a size zero to eight, and I just don't understand why. The average size for women in the UK is a 16 - yet we don't see that at London Fashion Week?
Women come in all shapes and sizes and it's baffling that in 2015 there is still a lack of diverse bodies strutting down that runway. I'm a curvy girl and I believe in the right that all women, thin, curvy, short, tall, whatever, should be able to wear fashionable clothes. It appears that some people in the fashion industry however don't, and I find that really sad.
8. I would do it all over again
Although presenting at London Fashion Week nearly killed me ha, I would do it again in a heartbeat. I loved learning about the different camera angles, reading my script and generally being given the opportunity - I guess it felt like someone actually believed in me. I write a blog and I make Youtube videos as my full-time job and I love it, but sometimes it's nice to be able to do other things and gain experience and knowledge within the TV industry.
My goals are to be known worldwide as a mental health presenter - fingers crossed this is just the beginning. If you're reading this and you're a producer or fancy man or woman at the BBC, I think you should take me on as a presenter, I'm just saying hahaha.