Waking The Dead: Maggots, jam and mouldy corpses
It's a wet Friday morning at our studios in West London and it's my last day on series nine of Waking The Dead.
We have just delivered 10 hours of primetime drama to BBC One - the final ever series.
It's been a lightning five years since I started on series six and my mind turns to what I'll take away from the experience of working on a forensic crime drama.
For a start, I could probably kill someone 20 different ways now and have an above average chance of getting away with it. It's good for you to see the different ways your licence fee goes to work, I think.
Oh wait, I've just thought of a downside. With the amount of gruesome script research I've done on my BBC computer, I'm probably on every government, police and Ministry Of Defence watch list, so maybe not a good idea after all.
Danger lurks at every turn. This series we have a scene where a corpse has a distinctive imprint on its skull. Eve works out it's where the head hit a manhole cover after the victim was run over.
After researching this element of the story, I will certainly think twice before putting the word 'manhole' into Google again, I can tell you.
One of my abiding memories from my time on the show is the day we filmed a scene in a mansion that involved a naked decomposing prosthetic corpse suspended upside down from a first floor balustrade.
The victim's silicon skull had been filled with jam to encourage the maggots to stay put (maggots love jam, apparently - who knew?).
In addition, the fly and maggot wrangler (yes, it's a real job) released hundreds of blowflies as the camera manoeuvred its way through the hallway, avoiding the dead taxidermal dog lying on the floor.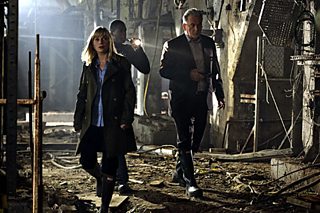 It was at this point I was told the owners of the house were coming home early in the hope of meeting Trevor Eve.
Now, we are always completely upfront with potential location owners about our intentions. However, I wasn't convinced they'd be prepared for the harsh reality of the situation when they returned home.
So, as I stood by to welcome them back, the crew flew into action (like the last five minutes of an episode of Changing Rooms), using fly spray, vacuum cleaners and dustpans and brushes.
This was one occasion where we weren't able to say that "no animals (flies) have been harmed during the making of this film."

This last series of Waking The Dead certainly provides us with the opportunity to do something special, and hopefully surprising.
There are brief references to Mel Silver, Stella Goodman and Boyd's son Luke, not in a reverential way, but as a way of prompting audience memories.
Do you remember Boyd buying an enormous yellow model aeroplane in series five - Towers of Silence - when Grace's back was turned?
The plane has been knocking around the prop store for five years.
When we see Boyd's home for the first time this series, I suggested the yellow plane should be evident.
It's one of many small details for regular fans of the show. See if you spot it.
It's great working on such a highly regarded show. It's the producer's job to galvanize a film crew of 60 people.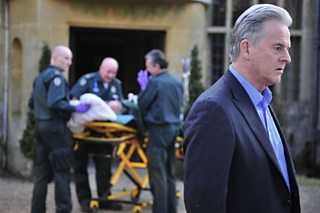 I try to provide an environment where the writers and the crew feel empowered to create compelling stories with dark locations, great sets, stylish costumes, authentic looking corpses and atmospheric lighting set-ups.
My job has been made so much easier because the quality you see on your television screens, in turn, attracts high calibre actors and crew year after year.

Quite simply, quality stems from quality.
The decision was made to finish and it certainly feels that we're finishing on a high, having not outstayed our welcome. Would you agree?
Boyd is about to come up against the biggest challenge of his life this series. Will he prevail?
You can judge for yourselves if we've got it right. I hope you'll let me know as I'd be very interested to hear.
Colin Wratten is the producer of Waking The Dead.
Waking The Dead is on BBC One and BBC One HD at 9pm on Sunday, 13 March.
For further programme times, please visit the upcoming episodes page.
Comments made by writers on the BBC TV blog are their own opinions and not necessarily those of the BBC.