Just a few days to go until Warhol, the first of BBC One's Modern Masters series, is broadcast. It feels like we are paddling into uncharted territory - putting modern art and a new presenter Alastair Sooke into primetime BBC One. What are we trying to do?
The history of western art more or less makes sense until about a century ago when everything seemed to go a bit crazy. The normal rules of painting suddenly ceased to apply. Suddenly artists were less interested in making straightforward pictures of the world around them.
Maybe it's partly because the world got more complicated. Einstein rewrote the laws of physics and Freud labelled the unconscious. Photography seemed to be able to do the job of straight depiction quicker and better. And because the art got weirder, knowing what to make of it got more difficult.
New artistic movements arrived at dizzying speed - impressionism, expressionism, Dadaism, futurism, surrealism - it's not surprising that people looking at this new art started to feel a bit alienated. And even now, 100 years later, I think many people still feel confused.
By concentrating on the work of four key artists - Warhol, Matisse, Picasso and Dali - we give a sense in Modern Masters of what happened to art in the 20th Century.
They each changed art in their own way: Warhol as a pop artist, Dali as one of the original surrealists, Matisse as the master of colour and simple form, and Picasso, who could probably have invented modern art on his own. (It's said that a normal day for Picasso would be to paint three masterpieces before breakfast, then spend the day on the beach seducing beautiful women.)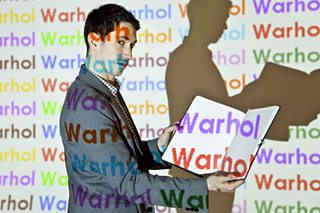 Alastair Sooke is new to presenting, and he's a natural communicator. He knows about the art and talks about it in a clear and memorable way. And he's a good sport too - dressing up as Andy Warhol, trying his hand at a Matisse cut-out, and taking Dali's hovering fried egg for a walk.
Alastair goes to meet artists, biographers and curators and also talks to designers, advertising gurus and people from the fashion world to find out how these artists influenced culture more broadly.
The designer Paul Smith reveals that he gets a lot of his inspiring colour combinations from Matisse. Noel Fielding from the Mighty Boosh talks about how Dali's surrealism influenced his comedy and one of Picasso's models reveals how she inspired the actress Brigitte Bardot.
Hopefully you get a sense that these revolutionary, cheeky, inspired artists did more than paint a few pictures and make a lot of money - they really did change our world. I hope the series will inspire people to go out and discover all the art that surrounds us, much of it there to be enjoyed for free.
Alongside the series, BBC Online have a great website which includes a series of walking guides around some of the country's modern art landmarks. Viewers who can get to London's Victoria and Albert museum in May and the first half of June will be able to see rarely-seen works from their collection by our four masters Warhol, Dali, Matisse and Picasso.
I tried out the Glasgow and London walks myself, armed with a print-out art walk from the BBC website. First off, I headed for the central London one last Sunday, accompanied by my bike and a musician friend.
By Marble Arch we came across the monumental sculpture of a horse's head. The absurdity of it - a horse balancing on the tip of its nose - makes me think of Dali, as well as the faithful anatomical rendition. Of course, as I have the guide with us, I know it's not balancing, it's drinking.
Heading back along Bayswater Road, you notice the influence of the modern masters in the artwork hanging for sale on the railings of Kensington Gardens.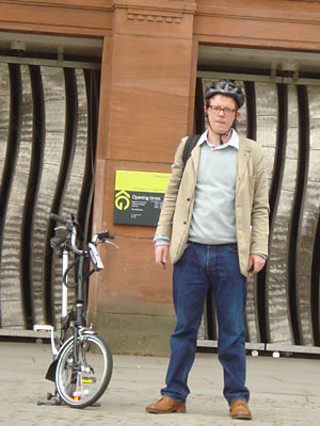 There is Dali, Matisse and Picasso in the heavy nudes and erotic dreamscapes. There might be a bit of 1970s music album cover art in there as well. Some very British nods to Warhol with paintings of Colman's Mustard, Marmite and Flake bars. There are also butterflies and spin paintings, which makes me realise that what Damien Hirst, one of today's most celebrated modern artists, does is perhaps not quite so easy as he makes it look.
On Tuesday, it was off to Glasgow, where I took my folding bicycle on the sleeper train. The Walk of Art (or in this case bike of art) was a great way to see some of the best of the city on a crisp spring morning.
There is some great modern sculpture on the city's streets and in public places. On the way back down Sauchiehall Street I spot an elegant-looking sweet shop, prominently featuring the Dali-designed Chupa Chups logo along with some Warhol screenprint-inspired graphics.
The very act of embarking on a walk with art appreciation as your goal makes you see the world in a different way. I hope that the series too will persuade people to look at the work of these and other modern artists afresh.
A hundred years ago modern art was in its infancy. By now it has proved it is here to stay, though it will be interesting to see what the art it has inspired looks like in 100 years' time.
Mark Bell is the commissioning editor of BBC Arts. Modern Masters starts at 9pm on Sunday, 2 May on BBC One