India: A Dangerous Place To Be A Woman
Being a girl can be tough. Let's face it! When I visited an all-girls orphanage in Patiala, in the northern state of India, Punjab, I realised how lucky I am.
I was there to film for the BBC Three documentary I'm presenting, India: A Dangerous Place To Be A Woman.
The orphanage is one of hundreds across India
As a young British Indian and journalist, I wanted to go to India to uncover the reality of life for women there, six months after a young medical student was brutally gang-raped on board a bus in the Indian capital Delhi.
The story made international headlines and shocked the world.
I have visited India many times and spent time there. As my ancestral homeland, India is a fascinating place.
Full of rich culture and colour, its spiritual vibrancy can be seen everywhere and I feel a deep sense of belonging here.
Whilst filming for the documentary, I met many brave young girls and women willing to share their personal experiences of harassment and violence.
I met with a 15-year-old acid attack victim from Bihar and a 21-year-old woman who was severely molested and stripped of her clothes after attending a friend's birthday party.
At the orphanage I didn't know what to expect. I walked in and was met with the most incredible young Indian girls.
Thirty or more, there were tiny baby girls to young teenagers. Some were bold - laughing and singing, others were coy, hiding and playing with their toys.
Full of heart and soul, I had never seen such warm smiles. I was truly taken aback.
Girls in this home have been abandoned by their parents for various reasons, be they economic or fear for their future and marriage prospects.
But all their stories boil down to one main reason: being a girl. There's a common mindset throughout India that a girl is a burden.
In a deep-rooted culture, sons are raised superior to daughters. Boys are seen as the ones that can only provide for the family and carry on the lineage.
Demands for dowry can translate into parents struggling to fulfill their final duty, their daughter's rite of passage at the time of marriage. It's no wonder then girls are abandoned.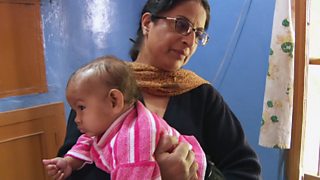 Veena: 'Most people think sons are better for them... People are scared to have girls'
Veena aunty, who runs the orphanage, raises each girl child as her own, educates them, inspires them and teaches them to stand on their own two feet. When coming of age, she can also find them a husband and a loving family - without demands for dowry.
As a proud parent, she gives each precious girl away in marriage as her own.
Whatever bitter personal story they all shared with me, the love oozing from every corner of this orphanage makes it a truly sweet, humble abode.
In Hindi there's a well-known phrase that a daughter is the goddess of her family and home - 'Ghar ki Lakshmi'. 
This place was a home to many Lakshmis. Beautiful and intelligent, respected and sacred.
Heena, one of the oldest in the orphanage, now 21, has been there for 17 years. Heena told me her mother gave her and her sister up to the orphanage, saying she could no longer raise them - but kept Heena's brother.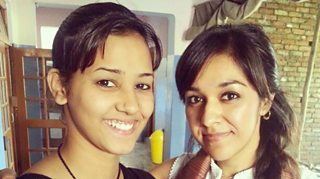 Heena shares her story with Radha
I asked Heena if she would ever like to see her mother again.
She said No, this is my home. These girls are all my sisters. I have over 30 sisters! We shared a few tears, hugged and smiled together.
These wonderful individuals have proved being born a girl child in India is not a curse, she is not a burden or a weaker sex, from the day she is born to the last breath of her life.
I've shared their heartache, heard disturbing tales and witnessed a fighting spirit within them all. A burning desire to rise up, face every challenge, overcome it and stand tall.
Radha Bedi is the presenter of India: A Dangerous Place To Be A Woman.
India: A Dangerous Place To Be A Woman is on at 9pm on Thursday, 27 June on BBC Three. For further programme times, please see the upcoming broadcasts page.
If you, or someone you know, is affected by the issues raised in this programme, please see the information and support page for details of organisations which can help.
More on India: A Dangerous Place To Be A Woman
BBC Radio 4: Radha Bedi on Woman's Hour
Huffington Post: The blog: India: A Dangerous Place To Be A Woman
Comments made by writers on the BBC TV blog are their own opinions and not necessarily those of the BBC.