What we discovered in 10 minutes with Zoe Boyle and Kerry Howard
Flatmates Rhona and Leanne couldn't be more different. One is a weekday vegetarian who wants to quit their friendship, the other a clingy BTEC-qualified actress whose bra and knickers don't match. All of a sudden they are forced into the complex world of witness protection after stumbling across a gangland shooting. What could go wrong?
We met actresses Zoe Boyle and Kerry Howard who play the unlikely friends in new BBC Three comedy Witless – to see what else we should know about them…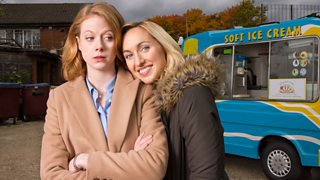 Rhona (Zoe Boyle) is ready to leave the flat she shares with Leanne (Kerry Howard)
We discovered that Zoe and Kerry have had their own flat-sharing experiences…
Zoe: Well I lived with a drummer at university for a bit which was horrendous. It was a whole big mess. I think we thought it would be really cool to live with a drummer but it's not cool, it's not fun, it's not big or clever.
Kerry: Probably my worst experience was when I was living in my dad's apartment, and my brother Daniel was living there too. There were only two bedrooms, so my dad had his bedroom obviously and Daniel had the other one because he had a job. So I had to sleep in the lounge.
Dad would wake up really early in the morning, so my mum's answer was to get me a pop up tent. So I slept in a tent inside the lounge… for about a year. I mean luckily [laughing] I didn't have a boyfriend!
Zoe: "Oh come back to my pop up!"
Kerry: Yeah it's amazing what you suddenly remember, I'd blocked that out! But the thing is, it's not soundproof, I could still hear dad at 5.30 in the morning.
Zoe: It wouldn't even block out the light either?
Kerry: No! It was awful.
…that their characters, Rhona and Leanne could learn a lot from each other…
Kerry: Leanne can learn to have a bit of breathing space to think things through before doing them.
Zoe: Yes, and Rhona could learn to cut loose a little bit more. She's really inhibited. And also she really needs Leanne because Leanne is the BTEC qualified actress [they both laugh] but she's willing to improvise and to take things as they come.
This is a situation that you can't plan for – Rhona's planning isn't working so she's dependent on Leanne. And that's a nice dynamic, because they get a bit closer as the show goes on.
Kerry: On their own they wouldn't manage, I don't think. But together they are the 'perfect human', dealing with everything.
Zoe: …I wouldn't say perfect! That's so Leanne!
Kerry: [Does Leanne accent]: THEY SHOULD BE TOGETHER AND THEY SHOULD NEVER BE BROKEN. EVER.
Zoe: But the situation gets worse and worse, so they are more entangled in this thing. And they have to resort to more extreme measures as they go along.
Leanne and Rhona test out their new pseudonyms at the dentist. At least, that's the plan...
We discovered that John Inverdale makes a memorable cameo in the comedy…
Kerry: John appears in a video about how to cope with witness protection. I loved it. We have that in every episode to mix it up and it's brilliant.
Zoe: But what's also really funny is that whenever we had a read-through everyone had a version of John Inverdale that they would do. So we've met so many different John Inverdales.
…and that they admire a lot of British comedy actresses…
Kerry: For me it's definitely Julie Walters. She's just amazing. And Patricia Routledge as well. There were a lot of strong really talented women around in the 80s and 90s. Dawn French, Jen Saunders…
Zoe: Mine's Joanna Lumley. I bloody love her!
Kerry: …Penelope Keith. Judi Dench had her own sitcom. They were all leading shows. They weren't quite setting up gags for other people but we're changing that now.
We discovered Kerry wants to work with her brother, Russell Howard again…
Kerry: I mean if the opportunity arose we'd definitely work together again. Filming A Gert Lush Christmas together was really really fun actually. But at the moment it's just getting us tied down to something really because we're both just so busy. He's about to do a travel show with my mum!
We're not really a showbiz family though, I was brought up on jumble sales in church halls you know, very very normal. It's a bit weird what's happened.
…and that her Bristolian family like hearing their accent on screen
Kerry: Well they just think I'm playing them, so all my cousins are like: "It's me isn't it".
Discover more comedy shows on BBC iPlayer.
Zoe Boyle plays Rhona and Kerry Howard plays Leanne in Witless.
Witless starts on Friday, 22 April at 6pm on BBC Three and BBC iPlayer. Episode one will also be shown on Friday, 29 April at 11.25pm on BBC One. Each episode will be available to watch in BBC iPlayer for six months after broadcast.
Comments made by writers on the BBC TV blog are their own opinions and not necessarily those of the BBC.