Moving On: Exploring a different face of addiction
I can't remember exactly where I was when I had the idea for Letting Go (episode five of Moving On). I think, like lots of stories, I'd been carrying it around for a while. It was partly influenced by a group of people that I'd been working with.
As a writer I do work with different community groups. I've worked in prisons, with vulnerable young adults and with terminally ill people. For the last three years I've been working with drug and alcohol users who are in active addiction.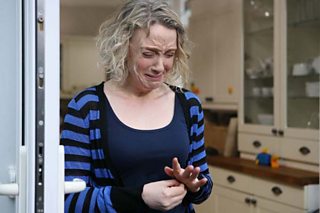 To begin with I had quite fixed stereotypical ideas about addicts and addiction and how it affects their lives and families. But the more I got to know them, the more I found that there was no such thing as a typical addict. Yes, some of my writing group are ex-offenders or street homeless, but others are ex-dentists, ex-engineers, social workers and teachers, some are still in employment.
Although I wanted to write an addiction story, I didn't want to write a drug story. Then I talked to a mother whose daughter is now at university but sadly after two breakdowns the mother herself is emotionally broken and will never return to work.
I talked to other mothers, spouses and fathers who had done everything to try to help the addict in their family and when they couldn't they themselves became ill.
These people are the focus of my story. I made Lee a heroin addict but he could easily have been a drinker or a gambler. This isn't his story, it's Kirsty's. The story about a woman who became addicted to fixing another adult. I wanted to reach out to anyone in the same situation, to show them that like her they can get off that chaos train.
Moving On is a collection of contemporary dramas which show a defining moment from where the characters move on in life. In my story Kirsty is forced to accept that she has become obsessed with someone else's life and isn't living her own.
Jimmy McGovern came up with the series idea and he had a very clear vision about the type of stories he wanted. Jimmy wanted contemporary social issues about real people. Then, as writers, we were asked to go and think about stories that we were passionate to write.
I submitted my idea and thankfully it was chosen for the second series. This was the third time that I'd worked with Jimmy and it's always a pleasure. He never tells you what to write or how to write it. What he does is ask all the right questions such as why is this character doing this? Why is this scene set here?
That's brilliant for a writer, it's exactly what we need. It makes you continually question whether you've got it right. In the past I've had script consultants who just want to rewrite your script their way so the end result is something that isn't very satisfying.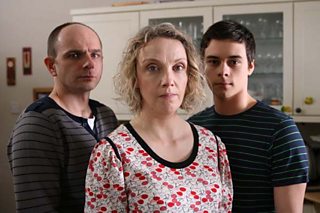 With this script I definitely felt it was mine, Jimmy worked with me, helping me to write the best script that I could.
Jimmy's also fab on the details, plot points, things like punctuation, which is great for me as I went to a trendy 1970s comprehensive that didn't teach grammar or spelling. Sadly my own education was quite poor.
Moving On did have a family feel, all 10 writers were invited to all the read-throughs. Which meant that we all got to support each other and hear every script and drink the odd glass of wine or two.
I've been asked a few times recently, why as a full-time writer, do I want to work with people in addiction - because it can be difficult. There are two reasons. The first being that my writing groups are people first and addicts second. And just like any other writing group there are people who are intelligent and sensitive and produce some outstanding writing.
Secondly I do passionately believe that people who work in the arts, whether it be painting, writing, music or dance, should try to reach out to as many people as possible. I have no big aspirations to be remembered as a fantastic writer but if I died tomorrow I'd like to think that I did at least try, through my art, to make people's lives better.
I have two favourite lines in the script. The first is when Lee is talking about heroin and his journey from loving it to hating it he says, "In my worst nightmares I watch it eat me."
It seems to me that drug addiction is like a slow death, like being eaten alive.
The other line is when Kirsty asks the dentist, "What sort of person judges people by their teeth?"
It sums up how we all judge each other all the time, fat or thin, old or young, affluent or not. We don't take the time to look at what's on the inside and I'm as guilty of that as anyone.

Karen Brown is the writer of Letting Go, episode five of Moving On - a 10-part drama written by a combination of new and established writers exploring contemporary social issues.
The series began on Monday, 1 November at 2.15pm on BBC One and BBC One HD.
Karen's episode, Letting Go, is on Friday, 5 November at 2.15pm on BBC One and BBC One HD.
For further broadcasts, please see the upcoming episodes page.