Paris Lees and Rebecca Root on 'groundbreaking' transgender romcom Boy Meets Girl
Every new romance takes some getting used to. You're getting to know a new person, with new quirks and views, as well as taking on their family and friends - however bonkers. But what happens when that new relationship also features an age gap, and a transgender woman?
New BBC Two comedy Boy Meets Girl stars transgender actress Rebecca Root as romantic lead Judy, who falls in love with Leo (Harry Hepple). So what does Rebecca's role mean to the trans community, including friend and transgender rights activist Paris Lees?
Boy Meets Girl is one of the first mainstream TV comedies to feature a transgender actor in a transgender storyline. What does that mean to you?
Paris: I'm really pleased for Rebecca, because I've been looking at the States and have been quite envious of them for a while. They've got a really good scene in terms of transgender activism, with strong, sensible, articulate voices. And I just don't think we've quite had that in the UK. So I'm really hoping this will provide a bigger platform for Rebecca, because we need as many people to fly the flag in this country – I think we need some more voices.
Rebecca: I think it's wonderful that we are seeing one facet of one trans woman's experience on mainstream British TV, and totally hats off to the BBC for picking up the flag and flying it, and reflecting a facet of our society. And I hope that Boy Meets Girl entertains people: it is a romantic comedy, it's a sitcom, it's supposed to make people feel good about themselves. But of course behind that there's also a wonderful opportunity to show something, just something of the many complex stories that are out there in the trans community.
Paris: The frustrating thing for me a few years ago was that we were only seeing one type of trans story being told in the media, and it wasn't coming from a very informed place. I always think it's a rich sort of drama being trans. There are complications to it, there are emotions. But we weren't really seeing it. It was always a case of pointing at the trans person and laughing and ridiculing them.
This programme didn't happen by chance – it is actually the fruit of a really early meeting with the BBC, I think it was in 2011. So it's really satisfying on so many different levels to see this project succeed, and for trans talent to be nurtured and celebrated.
Paris takes part in a BBC Three Free Speech video on what not to ask a trans person
How did your experiences relate to those of Judy in Boy Meets Girl?
Rebecca: Everyone's got different stories. I mean there are as many lucky people like me who had a relatively safe transition as there are unlucky people who had a hideous transition. And everybody has – somewhere on that spectrum – their experiences. My transition, whilst I describe it as safe and supported, was not without its challenges and its aggressiveness in the streets and society. But I had it 'easy' because I'm an actor, I work in theatre in liberal arts. I'm not a welder or a soldier or a cop.
Paris: I've never had any problems in my dating life. I've been in two fairly serious relationships, one long-term, and nobody really cared actually. But I think Rebecca is right, I think we are privileged, and I think that's partly to do with why we're sitting here talking to you now.
But I think the real change we need to effect is with the people who are struggling to walk down the street every day, being abused every time they leave the house. That is still the reality for a lot of trans people. So while it's wonderful that we've seen this explosion of media representation, that has to translate to better rights, better access to healthcare and housing, and mental health services. Because a lot of trans people sadly still face family rejection, so I think it's important to keep that in mind.
I really hope that this show will help to be part of that change. Because this is mainstream, this is massive, this is literally groundbreaking. This is like when Lenny Henry or Julian Clary were first on TV: voices that we haven't heard from in a minority are going to be in your living room.
Things have dramatically changed within even just the past three years, and this programme is part of that. I don't think we can go back on that now.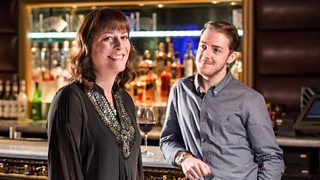 A chance meeting in a bar spells romance for Judy and Leo