What makes a piece of furniture a classic? And just what effect did Laurence Llewelyn-Bowen's boudoir decor have on British tastes? The archive collection Home Sweet Home - available now on BBC iPlayer - explores these questions and more, using BBC programmes that have explored interior design through the decades.
And guiding us through some of her stand-out picks from the archives is high-end interior designer Kelly Hoppen, who has strong opinions about water beds...
Kelly's pick: All mod cons: The Pad
I got my own apartment at the age of 17 and you do have this feeling of independence, but I think this programme celebrates financial independence too. It was such a massive shift in terms of the independence of one-bedroom apartments and it was just such a different way of living.
With self-assembly furniture everything was very changeable. I constantly talk about the fact that no idea is a new idea but in those days they really were new.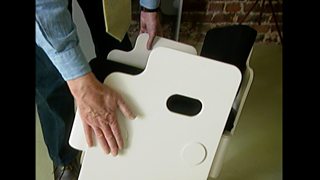 I mean you look at someone like Max Clendinning, who designed chairs that slot together (above) – he was so new and so forward-thinking. But today, we're talking about traditional homes and modern homes or minimalist homes like it's something we all created. We didn't really. It was so much more defining in those days.
I think that some of the great furniture designers of that time have really kind of lasted. You look at a Charles Eames chair from the 50s and 60s and it's just a classic. It's a bit like bangers and mash, it will always taste good no matter how rich or poor you are.
I think as time goes by people just keep on regurgitating the same old stuff the whole time – it's very rare today for somebody to come up with something as iconic as what happened back in the 60s. I think people experimented more back then and that's the thing which comes across a lot in these early shows.
Kelly's pick: The Home That 2 Built: The Nineties and Noughties
Then you look at Changing Rooms and for me that was just hideous. Linda Barker and Laurence Llewelyn-Bowen - good on them for going in and doing that - but this was taking it to another extreme. They were told: 'Go in, do what you want and don't worry about the client, it's all fine'. And then these poor people walking in and Laurence going: 'Well isn't it just fabulous?'
There was no transition from traditional slowly going into a modern interior, Laurence just took them into a dark den – like a club – thinking that was cool. But again, it's fantastic TV. For me that was a very defining 90s design moment. Like when Ikea threw chintz out. That was an incredible advert.
Again, the 90s was such a revolutionary change in furniture. No more fuss, the simple look. I think that whole era was just so incredible and I think we forget how dynamic and how refreshing it was for people.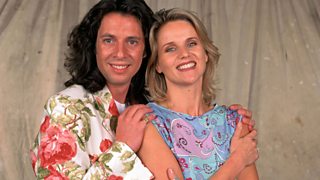 Kelly's quick-fire thoughts on…
Flat-pack furniture: Brilliant. I mean just so revolutionary and clever. And less is more.
Water beds: Hideous. I once rented a house in Portugal with all my kids and all their friends and family. And I suddenly saw that one of the rooms had a water bed and I thought: 'Oh no, my children are going to hate me'. And they all fought over it! I just felt seasick.
Inflatable chairs: Live without those! Anything you blow up really has to be in water in a pool.
Doilies: I absolutely love doilies. I think because they're so kitsch. I just think they're really clever and underestimated.
Kelly Hoppen is an interior designer and curates Home Sweet Home, a collection of archive interior design programmes available to watch now on BBC iPlayer.
Comments made by writers on the BBC TV blog are their own opinions and not necessarily those of the BBC.