How To Survive Celebrity MasterChef: Heat three with Craig Gazey
What do you tell yourself to help cope with nerves in the competition?
I'm not really doing well with that to be honest! Before signing up to do this I thought we might be given a few little tips, or that off camera it wouldn't be quite as gruelling as it was... but everything you see on TV is exactly as it happens. This does not help with the nerves!
It started on the Invention Test and just got harder from then on. But, all that said, I am loving every minute of it.
What are you learning about yourself during the competition – any strengths or weaknesses you were not aware of?
I've come to the realisation that I'm more highly strung than I'd like to be! But even under the circumstances I find myself able to make some cracking decisions that I never thought possible, added with some not so great ones.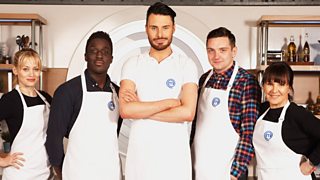 The heat is on for the week three, er, heat!
What is the secret of good cooking, for you?
The secret of good cooking is to cook from your heart and just to deliver nice, homemade comfort food that puts smiles on people's faces.
What's your best cheat tip in the kitchen?
This isn't a cheat but it's a tip. When dealing with pastry, you need a warm heart and cold hands. Put your hands under a cold tap when making the pastry, don't overwork it and put it in the fridge for half an hour. Then, when rolling it out, get the flour everywhere. I do. Pastry making is not a clean task, so it's often wise to get other people to do the washing up!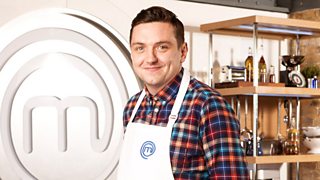 Craig Gazey is an actor and Celebrity MasterChef contestant.
Celebrity MasterChef continues on Thursday, 2 July at 9pm on BBC One. Each episode will be available in BBC iPlayer for 30 days after broadcast on TV.
Comments made by writers on the BBC TV blog are their own opinions and not necessarily those of the BBC.