Marvellous: Q&A with Lou Macari
Marvellous is an uplifting drama based on the true story of Neil 'Nello' Baldwin, played by Toby Jones, a man who defied being labelled as having learning difficulties to lead a remarkable life. After a spell as a circus clown, Neil was offered a job as kit man for Stoke City Football Club by then manager Lou Macari. Lou spoke to the BBC TV blog about the film. 
Watch the trail: The extraordinary story of a man who confounds all expectations

How did you first become involved with the film?
 
Pete Bowker [the writer] came to see me at a hotel in Stoke - he said that he wanted a chat about possibly doing a drama about Neil Baldwin.
The hour meeting turned into a two-hour meeting, to three hours. It probably got to the four hour stage, and we were still talking about Neil!
He asked to come and see me again, with [the director] Julian Farino.
The more I talked, the more interested Julian got. And by the time they left, they'd probably convinced me that something was going to happen.
When I heard it was going ahead, I was delighted and surprised, and anxiously waited to see how it was going to come across on television.
You're played in the drama by Tony Curran – what was it like having you and Neil's story as part of the film?
Tony, I believe, had been in Gladiator. I'd never seen him before. When I looked for his picture online, I thought, Bloody hell, he looks nothing like me!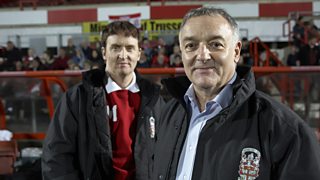 Tony Curran, who plays Lou Macari, also starred in BBC Two's This Life, and sci-fi series Defiance
But when I went to the shooting of the film at one of the football grounds, they'd cut his hair shorter and they'd done something with the colouring. He started to resemble me.
I asked him about the voice, and he told me he'd picked it up from the radio, and from Manchester United Television. He'd tried to get as close to it as he could.
I sat there watching him play me, sort of live, and I've got to be honest, I thought, Well, that's not bad! That's better than I thought it would be!
I went down to London to watch the premiere, not knowing what to expect.
I was never a nervous footballer. I had no fears of walking out into packed stadiums, whether it be Hampden Park, Celtic Park, or Old Trafford. But here I am, sitting years later in this film studio in South Bank, and I'm shaking. And I really was shaking!
I'm thinking, What the hell am I shaking for? I was going to see for the first time what they'd done with me. How they'd used me, and how they'd shown my kit man!
That was probably the most important thing - how he would come across.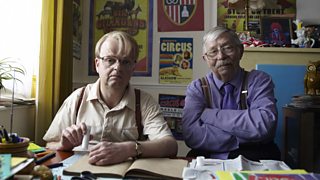 Toby Jones on set making a 'Neil Baldwin Football Club' poster, with Neil beside him
When people have asked me what [the film] is like, I've said to them, "At the end of it, if you haven't cried or you haven't laughed, then you're not human."
Looking at people round about me, there was laughter in that cinema in London.
And there were people crying, certainly [at the premiere] in Stoke on Trent.
How close to real life is the film?
Everything in it is true. From start to finish, everything happened. The bit I liked best starts with me getting the job at Stoke City...
Lou starts work at Stoke City, and meets Neil for the first time
The next scene is the team bus, outside the stadium. The players are standing outside the bus waiting to go for a game, and out comes Neil, with the kit.
In a chicken outfit!
I told [Pete Bowker] everything that had happened - and believe me, you couldn't get everything into an hour and a half. I said to him I'm expecting Marvellous 2, Marvellous 3 and Marvellous 4 to come out, because there's so much we couldn't get in there.
So I'd like to keep stressing, this is real!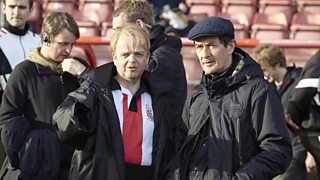 At the stadium filming, with Bafta award-winning director Julian Farino