Wolf Hall: Why I was lost in admiration for Anne Boleyn
Hilary Mantel's books, though written in the third person, are very much told from Thomas Cromwell's point of view. I wanted to find a shooting style which reflected this. In consultation with our director of photography, Gavin Finney, I decided to shoot hand-held. This allows a great freedom of movement to the camera which, in turn, allows the actors equal freedom on the set.
To cement the sense of being with Cromwell, we rarely enter a room ahead of him, rarely meet a character before he does. The fluid camera follows Cromwell as he moves through the various royal palaces and Tudor houses that are the stage for our drama. It sees what he sees, then comes back onto his face to discover his reaction. This natural, contemporary, point-of-view style of shooting makes Wolf Hall stand out from other recent Tudor dramas.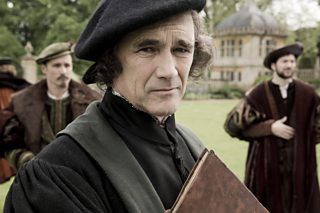 Mark Rylance read Hilary's books twice in preparation for the adaptation
I think it would be possible to read and watch Wolf Hall with little or no prior knowledge of the period. Our primary objective was to bring to the screen Peter Straughan's wonderful adaptation of Hilary's novels, which create an entirely internally consistent world, and don't owe a great deal to other cultural references.
For this reason, it was possible to create Wolf Hall for TV without drawing on earlier Tudor depictions. We commissioned our own research in a variety of relevant fields and tried to be faithful to the naturalistic, very contemporary style of Mantel's originals.
I think I am, first and foremost, an actor's director. I'm not especially focused on the technology.
I long ago realised that a director has two main jobs - to get the script right and to cast the right actors. Once you cast them, (and I had a lot of help from casting directors Nina Gold and Robert Sterne), the best bet is to stand back and not get in the way!
My strategy is very much to trust my actors, to try to create an environment where they can do their best work, insulating them where possible from the inevitable pressures of budget, schedule and physical production.
A good eye and arm: Henry VIII (Damian Lewis) is impressed
Mark Rylance is arguably the best actor of his age-group working today. He is a director, a writer and has run a theatre for 10 years. He is not going to react well to the 'just stand right here and deliver your lines' school of direction.
Mark is, I think, looking for a collaboration with a director - not a dictator. He is a master of his trade and all a person like myself can do is offer little thoughts here and there, and provide a somewhat detached sounding-board for his own developing ideas. Since this chimes almost completely with my idea of how to direct actors, this may possibly be why we have managed to work quite well together, at least thus far.
Anne Boleyn's sister, Mary (Charity Wakefield), confides in Cromwell
I was very aware of Hilary as a political figure, and as a person of forthright views who didn't tend to cut or trim to ingratiate herself with wider public opinion. She appeared to be a person who spoke her mind and wasn't easily cowed by the howls of protest which sometimes resulted.
I believe we need more people like Hilary, ready to stand up for what is right, in this country. I admired her before working with her and I admire her even more now. She had done a great deal of research for Wolf Hall, studying the sources for five years before even putting pen to paper. She has been incredibly generous towards me at every stage of the project. She made her research archive available and quickly responded whenever I had a question about the text or the depicted characters. She has been hugely encouraging throughout and, on seeing the finished programmes, very quick to offer her very public endorsement.
In many ways, it would be a model for me of a perfect working relationship with an author. I doubt I will be so lucky next time.
Wolf Hall has altered my opinion of Tudor figures across the board. But probably most dramatically of Anne Boleyn. I didn't know that much about her before we started. But during my research I discovered that Anne was not simply an ambitious and scheming knight's daughter who over-reached herself and paid the price in blood.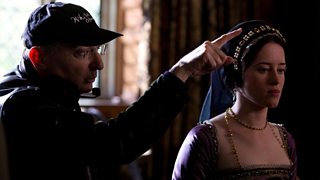 On set with Peter Kosminsky and Claire Foy as Anne Boleyn
Anne was a very significant political figure in her own right. Like Cromwell, Anne was of the 'heretic' persuasion - desiring that a Bible in the vernacular should be made available in every Church in England, (this came about eventually, though some years after her death); seeking to repatriate powers from Rome and from the Church and invest them once more in England, in the person of the King.
Anne was probably also a proto-feminist. Women, perhaps especially royal women in that era, were little more than merchandise - sold into wedlock for the advancement of the male members of their family. For a woman to be such a player, politically and spiritually, was extremely unusual in the early 16th century. By the end of our film-making, especially as played by Claire Foy, I found myself lost in admiration for Anne and devastated by her unjust killing.