When asked to describe Mongrels, as I often am by bemused people at parties who've been told I work 'with puppets' and who are humouring me, I normally say, "It's an adult puppet comedy show."
This inevitably makes them ask about the puppets: How big are they? Have you met Kermit? Then they ask if there's going to be puppet sex.
And that's my big mistake, because actually the whole idea of Mongrels is that after watching it for about five minutes, you forget that you're watching a puppet show, and you start watching a sitcom about a fox, a dog, a cat and a pigeon who live in the back garden of an east London pub.
It's a story that just happens to be told with puppetry. Although there is a bit of puppet sex. Classy sex, mind you.
Mongrels really began when I was working on a kids show for ITV and where two things became obvious. Firstly, that the adults making the show were laughing at the puppets at least as much as the children. And secondly, that when you shot them with hand-held camerawork they came to life in the most extraordinary way.
A few years after that and I'd re-mortgaged my house to buy some camera and editing kit and was working on a series of TV comedy pilots that used puppets in a very basic fashion.
Then one day Andy Heath, a puppeteer who I'd met on the self-same kids show years before, agreed to help me out.
Watching him pick up some terrible store-bought puppet wolf and seeing what he could do with it was a revelation. The man's a genius by the way. You hear about Tiger Woods picking up his first golf club while still in the womb, well Andy's the same, but with puppets.
Next thing I know I've written this bad script about a metrosexual urban fox called Nelson, and Andy and his business partner Iestyn have designed and built the puppets and we've shot and edited a pilot.
That's a glamorous way of saying that we spent two months lying in puddles and dog crap all over south London.
At the time I'd been working as an assistant director with producer Stephen McCrum at the BBC and plonked the resulting pilot on his desk.
Little did I know that he shared a love of puppetry, and suggested we got on board a hugely talented young writer, Jon Brown. Together we tried over four and a half years to nail the essence of Mongrels.
We wanted to make something that had the pace of an American animation but with British sensibilities, that was adult, but not crude, that was based in the realities of the animal world, and that didn't rely on the puppets to do the comedy.
Later another brilliant writer Danny Peak joined us and after several scripts, one teaser and a pilot, we got a series commissioned.
Once that terrifying hurdle was cleared the fun bit started: designing the puppets and putting voices to thecharacters. This was tricky for Andy and Iestyn because sometimes they'd be trying to work out the look of a character without knowing what he or she sounded like.
Only the amazing Paul Kaye has been with us from the beginning of the BBC process (voicing the original Nelson and latterly Vince and a host of other characters) but as Rufus Jones, Lucy Montgomery, Ruth Bratt and Katy Brand came on board so the characters shaped up more easily.
The last voice to be cast was Marion, so late in the day in fact, that we had to take a complete punt on what the puppet would sound like.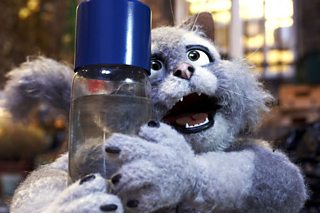 I'm told the body was based on James Corden's in the end. The voice however is all Dan Tetsell, and now I can't imagine anyone else doing him.
Puppets are a right bugger to film, and comedy is notoriously tight on the amount of time you have to shoot stuff. This made the production process very tricky, but such great fun.
When you walk on to a set at eight o'clock in the morning and there are four puppets dancing to Beyoncé, then you know you're going to have a ball.
And so we did, but we were trying to shoot something that hadn't really been done before outside of the Muppet movies - filming puppets in a drama style, with drama coverage, but using hand-held cameras. It was, to put it mildly, a learning curve, but a rewarding one.
Mongrels has been the most collaborative project I've ever worked on, every member of the team (affectionately known as Mongrels) has, without exception, contributed creatively to the finished product.
Now at the final hurdle, and five years down the line, we are hoping that there's a bunch of other Mongrels out there that we haven't met yet, but who will like the show enough to give us the feedback we need.
Most of all though, and despite the cliché, I really do hope people have half as much fun watching it as we had making it.
Adam Miller is the creator and director of Mongrels.
Mongrels starts on BBC Three at 10pm on Tuesday, 22 June. To find out times of all upcoming episodes please visit the upcoming episodes page