The Missing: Finding the location for a dark journey
One of the many things that excited me about directing
Jack
and
Harry Williams
' scripts for
The Missing
was the clever use of two time zones to tell their twisty-turny thriller. I loved the idea of really contrasting the bright, colourful atmosphere of a family holiday in France, with a bleak, wintry present when all our characters are more estranged from each other.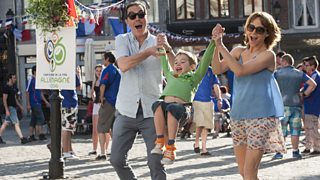 Tony (James Nesbitt) and Emily Hughes (Frances O'Connor) in the town square with Oliver
For 2006, the year Oliver Hughes goes missing, I kept thinking of summer holidays I'd had as a kid, when we actually did break down a few times in France. I remembered the exotic sounds of mopeds and cicadas, the bursts of colour in a market, the way everyone seems to live on the streets and in town squares. After Oliver's disappearance, I wanted to make those same sensations feel threatening. The woods around a beautiful outdoor pool would now exude menace. Cheering voices in the Grand Place would suddenly sound abrasive and threatening.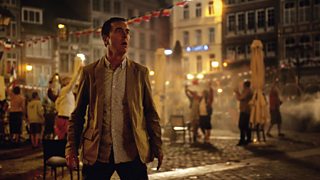 Tony searches the same town square after his son Oliver has just disappeared
In the wintry present, we used many fewer extras so streets would be almost deserted, making
Tony Hughes
– Oliver's father - look more isolated in his dogged quest to find Oliver. I kept ordering up more rain and then snow, to get a feeling of Tony's 'stop at nothing' determination to find Oliver.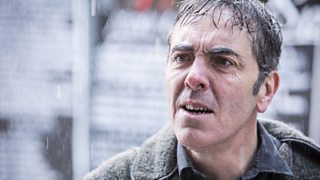 Tony returns to Chalons in the present day to pursue a new lead after eight years
Despite the different atmospheres in each time zone, it was important to me that the overall tone of The Missing was naturalistic and consistent. Aside from some subtly different lighting and lenses, we tended to shoot both time periods in a similarly composed style. The director of photography,
Ole Bratt Birkeland
, and I would joke that we were making 'pretty realism' as opposed to 'gritty realism'.
Although the performances and design are very authentic, Ole and I felt that if we could infuse the imagery with mystery and a certain kind of melancholy beauty, the viewers would be more likely to come on a dark journey with us. I've always been a big
Hitchcock
fan – he was master of blending nasty events with seductive, suspenseful imagery. You never feel like looking away, whatever hideous things might be going on in the story.
The trail reveals Tony's determination to find his son
The biggest decision about the look of The Missing was always going to be what town we chose to be Chalons du Bois. Along with
Willow Grylls
, the fantastic executive producer who developed the project with Jack and Harry Williams, I made a trip to Belgium in summer 2013 to look for the town. The French speaking part of Belgium is a very good match for Northern France, and it was pretty close to Paris and London, where we were also planning to shoot.
As soon as we drove into
Huy
, we  knew we'd struck location gold. Although the town felt real in the sense that it wasn't a tourist town, everywhere you looked there was something curious or atmospheric. There was a beautiful river with a massive power station right next to it, bang in the centre of town. You enter the town by crossing over a very striking modern bridge – magical river islands to one side, grim factory to the other. An eerily windowless castle glowers over the town. There's a creaking cable car suspended across the river, which has never worked since a helicopter crashed into it.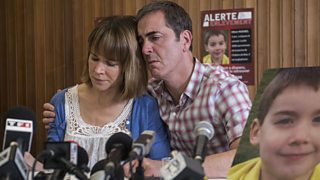 Emily and Tony attend a press conference about their son's disappearance
Instantly, I started to picture the places where certain characters might live and the way we could stage set-pieces. It was a joy to shoot in Huy, especially during the World Cup when Belgium were doing pretty well. We'd be shooting a scene full of celebrating football fans, and suddenly car horns and cheers would erupt all around us, as the Belgian team scored a goal.