Out Of The Frying Pan and into Sandhurst
We were only there to watch. It's standard procedure in an observational series, but a little less easy to pull off when your lens is trained on two rookie caterers who've just been told they must deliver a three-course banquet to nearly 300 newly commissioned officers.
Every producer's instinct is to make it happen. As the series producer dealing with both James and Ali and the clients they'll be cooking for, my instinct was no different. But in this case 'it', the event, will be solely, wholly, utterly in the hands of James and Ali.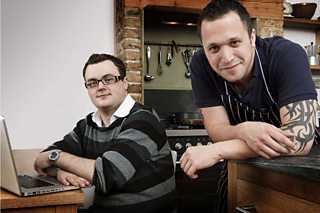 James Knight Pacheco and Alasdair Hooper took part in the second series of The Restaurant, competing to win the backing of Michelin-starred chef Raymond Blanc to open their own restaurant. They made it all the way to the final, gaining a huge and affectionate following, only to be pipped at the post.
Despite coming second, it was clear they had both talent and great TV presence. They were fun and funny together, and passionate about offering a fine dining experience, although, as The Restaurant judges constantly told them, they were rather inclined to overlook basic details in delivering it.
Raymond Blanc offered James training in his own kitchen at the double Michelin-starred Le Manoir aux Quat'Saisons and Ali was given a position in front of house. Nine months later the BBC returned with a new challenge: test your new skills in the real world once more - this time as event caterers.
They'd learned huge amounts training under Raymond and were eager to prove it. But however tough the Manoir kitchen, it had Monsieur Blanc's exquisitely honed menu, an elite kitchen team, and fully functioning equipment.
What James and Ali are embarking on now is guerrilla gastronomy - rolling out their brand of fine dining wherever and for whoever was asking. And we tracked down some pretty demanding clients to test their mettle.
Duncan Bannatyne's dinner party in Mougins in the south of France took bags of ingenuity in episode one. But they managed to steer their way through French food markets and unfamiliar local ingredients.
Then, in episode two, in the New Forest they'd overcome antiquated ovens and served up nearly 18 hours of continuous service culminating in a five course game banquet.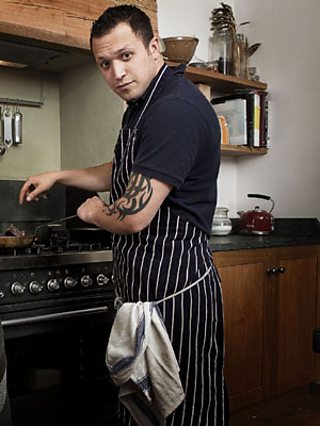 With happy clients under their belts, I knew the boys were riding high. I also knew the Sandhurst dinner, with the biggest number of diners they'd ever served, was going to stretch them further still.
But only as James and Ali themselves stood in front of the chief of staff and head of functions for their briefing did I realise fully how hard we were pushing their buttons.
In keeping with the ceremony of the evening, Sandhurst wanted silver service. It was a shock enough for front of house Ali, who'd never overseen a silver service team in five years in the restaurant trade, but a quick look at James revealed he may as well have been asked to plate up on the moon while wearing a spacesuit backwards.
I'd thought it was all about numbers, but the challenge for James was something else altogether. I think even he'd agree he likes to be in control - he's a perfectionist, certainly, used to overseeing every item he sends out from the kitchen.
But the Sandhurst request meant handing over his creations to be served up by strangers. In a cruel culinary twist on Chinese whispers, James would need to demonstrate his dishes first to Ali, who would, in turn, have to communicate his presentation to an as yet unknown team of 30 waiting staff.
It was a terrifying turn of events for James. And one we hadn't even spotted coming.
The giveaway with James is his silence, and a tiny ticking muscle in his face. But even if we had been able to take him to one side, resuscitate and reassure it would all be OK, he wouldn't have listened. He needed to work out a menu strategy for himself, and within 24 hours he had.
James is one clever and creative chef, and the menu he created to waiter-proof his dishes without compromising on design or taste was inspired. It even looked as though they might be in for a smooth service on the night - well right up until the afternoon of the event....
As for the night itself - well it's probably not giving anything away to say it's another white knuckle ride - both in the kitchen and front of house. Make sure you watch to see if anyone gets fed!
Rachael Barnes is the series producer of Out Of The Frying Pan. The third episode will be on BBC Two on Wednesday, 5 May at 7pm