Spiral: Showrunner Anne Landois answers your questions
This post is for people who have seen the last episode of series five of Spiral. Watch the double bill finale first to avoid spoilers!
After losing Pierre Clement midway through the series it was hard to imagine where the inscrutable Josephine Karlsson, our tenacious Captain Berthaud and Judge Roban would end up. The gripping double bill finale of series five left us reeling once again but luckily Anne Landois, writer and the showrunner of Spiral, joined us from France to answer your questions afterwards.
Here is a taster of some of your questions and Anne's replies. To read the rest of Anne's replies please see the Editors' Picks below.
MoXYZ (#137) asks: "It seems that as Laure becomes more and more vulnerable, Josephine becomes darker and darker. Do you consciously create this contrast or has it simply grown with each wonderful series?"
Anne replies: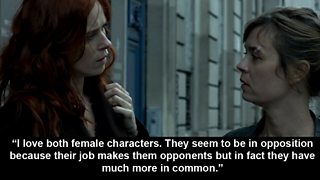 Barbara Murray (#328) asks: "It's a brilliant series, but so sad at the end. No hope of some happiness?"
Anne replies: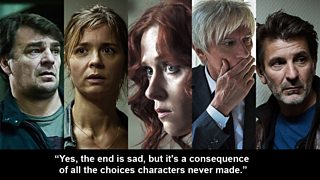 Joyce (#36) asks: "I thought the father of the baby had been killed in the bomb explosion. Who's the man Gilout phoned? Is it Laure's ex-boyfriend? Is he the real father? Where's he been all these weeks?"
Anne replies: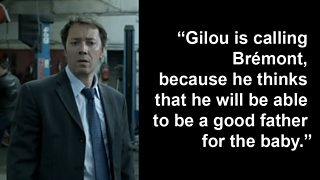 Thank you to everyone who joined us. The Q&A with Anne is now over but you can still comment below.
Spiral is on Saturday, 14 February at 9pm on BBC Four and BBC Four HD. The series five double bill finale is available to watch on BBC iPlayer until 9.45pm on Monday, 16 March.

Comments made by writers on the BBC TV blog are their own opinions and not necessarily those of the BBC.