As co-creators of new BBC Three comedy Top Coppers, Cein McGillicuddy and Andy Kinnear have spent the best part of a decade developing the fictional Justice City Police Department and it's two flame-haired cops, John Mahogany and Mitch Rust. As the series kicks off, the pair explain the show's back story and the many, many film and TV references you can expect to see in it...
So, Cein and Andy, tell us about how long you've been working on Top Coppers?
C: We started out with a 15-second film, which features a lot of young, fresh out of university students - us! It was 2007 and Raindance was holding this competition.
A: We came up with doing a whole cop show, but in 15 seconds.
C: We knew a guy who had really big ginger hair, and at the time Andy had much bigger hair…
A: I was much more ginger!
C: We wanted to do two ginger cops that were partners – we thought it would be fun. And then thought of the character names Mahogany and Rust and the title Top Coppers came to us and we thought: 'Ah yeah!'
A: We wanted to hold off doing anything more until we were good enough to do it. Then in 2010 we self-funded six five-minute episodes. I was editing Facejacker for Channel 4 at the time, so I knew Kayvan Novak quite well, and we managed to convince him to come and play our villain. So he gave us a day's filming for free and he was brilliant really. I think having him on board really helped.
C: It helped a lot afterwards, with him being attached people trust it that bit more. It really intrigued Shane Allen, and when he came to the BBC as Controller of Comedy Commissioning he got back in touch.
What is it about the cop genre that you love so much?
C: I think it gives you what is a very typically masculine environment, and I think we're happy to admit we're not the most masculine of guys.
A: Well….
C: Well I mean you are butch, you are butch.
A: Exactly.
C: [Laughs] But yeah there is something nice in modern day men like Mahogany – he's a lot more cerebral and sensitive. But the cop show era was the era when men were supposed to be men. So that contrast already is funny.
As a director, I loved that style that they shot things in back then. It's like they'd just discovered zooms and went nuts. And they over-emphasised everything. So they'd have an object and think: 'We need a close-up of that,' and would have someone lift it in, really obviously, and then back out. And it was just that kind of camera language that I really loved, because it's just visually funny.
A: It's so rich as well, they are such big stories, they're like mini-films and there's just so much going on. Big characters and big villains, there's just so much to get your teeth into. We wanted it to be what you remember cop shows were like, and everyone's memories of those great shows, all bundled into ours.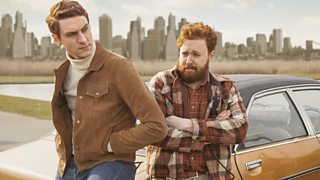 Starsky and Hutch were the main influences behind Mahogany and Rust
Let's talk about the shows and films that influenced Top Coppers…
C: People have been comparing it to Police Squad, The Naked Gun, and even Garth Marenghi's Darkplace which are all absolute favourites of ours. But we didn't want to do that same thing, so it's not a parody of old cop shows, it's like the embodiment of the imagination of two kids who have played too much cops and robbers.
The first cop show I saw was probably Starsky and Hutch. Their names, Mahogany and Rust are supposed to have a sort of phonetic similarity, just a rhythm to them that sounds the same. So I think Starsky and Hutch was the main influence.
Another big one is actually Mission Impossible, the series rather than the movies. The camera style is more true to that than to Starsky and Hutch – Mission Impossible really went for it with their camera work!
A: I think Starsky and Hutch was a lot more tongue-in-cheek than I think people remember. It was quite a knowing show really.
C: Yeah you can't take the mickey out of it like it took itself seriously because it didn't. They knew it was funny. But a lot of what we remember from when we were young is the more 80s and 90s-type movies.
A: Yeah we've got The Terminator references; there is a very subtle Jurassic Park reference… a not very subtle Face/Off reference…
C: …There's a not very subtle Robocop reference too. Then The Shawshank Redemption, Speed…
Another major influence is Father Ted, which might surprise people, because how can Top Coppers be anything like three priests living in a parochial house on a small island off Ireland?! But it's because of the warmth and the character comedy of Father Ted, combined with some outright just really silly jokes. And that's sort of the model of what we're trying to do.
Cein McGillicuddy and Andy Kinnear co-created Top Coppers.
Top Coppers starts on Wednesday, 19 August at 10pm on BBC Three. Each episode will be available in BBC iPlayer for 30 days after broadcast on TV.
Comments made by writers on the BBC TV blog are their own opinions and not necessarily those of the BBC.