A bird's eye view casts fresh light on the archaeology and history of Britain
That's what makes our country so interesting - so much heritage and variation packed into such a small place. So what is the connection between flying and archaeology?
Two apparently unconnected disciplines actually meet in the niche domain of aerial archaeology.
The term encompasses all research that involves looking for historic remains from the air, and on the ground, scrutinising historic aerial photographs, or analysing the results of cutting-edge techniques, such as light detection and ranging (LIDAR) on a computer.
English Heritage's painstaking efforts to map all the significant archaeological features visible on vast collections of aerial photographs really is revealing lost worlds.
It's not too bold to claim that this small sub-discipline has done more to reveal the rich history of the English landscape than any other investigative technique that we have developed over the last 100 years.
And yet this contribution to understanding our past is not nearly as well-known as it should be.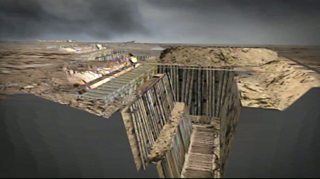 A reconstruction of the network of trenches discovered on the Hoo Peninsula along the Thames
So the idea of The Flying Archaeologist series is to show how our knowledge of some of our most iconic landscapes, and those more hidden corners of the country, is being transformed by the aerial view.
Now, you might think this would be a relatively easy TV task. Fly around, find wonderful things, and film them.
However, many of the most exciting aerial discoveries are exciting precisely because they do not reveal themselves easily.
They require a combination of the right crop cover, dry weather and good light, and being in the right place at the right time with a camera. 
In the wettest and least sunny summer on record, we had to abandon filming on Hadrian's Wall in June when, after days of rain, we were caught in one of the most catastrophic flash floods ever to hit the area.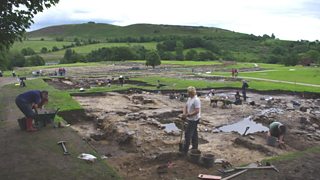 Excavations at a civilian settlement near Roman auxiliary fort Vindolanda on Hadrian's Wall
It's hard enough to get access to the tightly-controlled military airspace around Stonehenge at the best of times - and we also had the exceptional sporting calendar to contend with in the south.
The massive anti-terrorist aerial exclusion zones thrown up around the Olympic events made usually accessible places forbidden for most of the summer.
So getting a helicopter and small aeroplane loaded with cameras and crew, in the same place at the same time in reasonable weather, and managing to fly despite the restrictions was a significant achievement in its own right.
You'll see some of the intriguing things I spotted from the air during the filming. Ultimately, however, plans and theories generated by the aerial perspective need to be tested on the ground.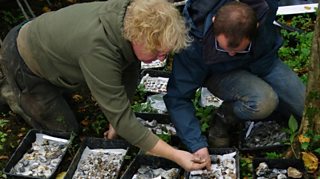 New evidence has revealed traces of human settlement 3,000 years before nearby Stonehenge was built
It was great, therefore, to meet archaeologists who are doing just that. The dedication, skill, and in some cases, the community effort being harnessed to explore and explain our past is a joy to behold.
It may sound trite to some people, but I think poring over maps that show hidden landscapes, or flying over ancient sites, trying to interpret how it all fits together and thinking back to life in the distant past is about the closest we can get to time travel.
Ben Robinson is an archaeologist and the presenter of The Flying Archaeologist.
The Flying Archaeologist will be broadcast at 7.30pm on Friday, 19 April on BBC One with four different episodes shown simultaneously in four select English regions. All four episodes will then be available on iPlayer for seven days on most platforms.
The series will be broadcast across the UK on BBC Four starting with episode one at 8.30pm on Monday, 29 April. For all programme times please see the broadcasts page.
More on The Flying Archaeologist
BBC News: Hadrian's Wall: Aerial photographs 'could change history'
BBC News: Network of World War I trenches discovered on Hoo Peninsula 
BBC News: Norfolk Broads: Bronze Age evidence 'everywhere'
BBC News: Stonehenge occupied 5,000 years earlier than thought
BBC Four Collections: Archaeology At The BBC: Explore archive programmes charting the BBC's first ventures into archaeology programming, available online to watch in full. Included are the popular Animal, Vegetable, Mineral? series and programmes featuring legendary archaeologist Sir Mortimer Wheeler.
Comments made by writers on the BBC TV blog are their own opinions and not necessarily those of the BBC.