BBC Three documentary Tom Felton Meets the Superfans marks the former Harry Potter actor's first time directing and presenting a programme. So what was going through his mind in these two key scenes?
The Rupert ruse
When I told Daniel Radcliffe that we were doing this documentary, the first thing he said was: "Oh you've got to go and see Brian". Brian is a fan like no other kind of fan. And it's funny, when I told Rupert Grint that we were coming to New York to do some filming with a fan, he said: "Is it Brian by any chance?" So he's known as a bit of a superfan.
Jade Gordon, my girlfriend who produced the show with me, suggested I put some sort of disguise on, and instead of going around interviewing him, we live the experience for the night and see what he has to go through to meet people and get autographs. The disguise came out of the idea that we could go under the radar a little bit.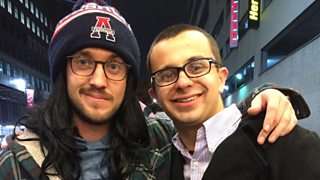 Tom Felton wears a disguise wig and glasses as he poses with superfan Brian
It was remarkable really, we spent about five hours out there and I was exhausted, and I thought that was going to be a slightly painful evening, standing in the rain and cold and waiting for Rupert to come out, but it was impossible not to get excited about it really. Brian's enthusiasm was so infectious, he's such an endearing character that we ended up having a really good night.
I think one or two people clocked that it was me, but I think we'd been there for maybe two hours before someone started to give me the eye and a little cheeky smile. But Rupert lasted about 10 seconds, he looked at me once and then just burst out laughing. And that was that then. I think truth be told unless I went there in a bloody ski mask he was always going to recognise me. He's known me for a long time so I don't think there's any fooling him.
I was remarkably grateful that Rupert was so open when we interviewed him. I did wonder if I should have told him: 'You know this is on camera mate..?' but he seemed incredibly honest. The day we spoke to him was the day after his show, and he doesn't finish until midnight or something like that. But he got up first thing in the morning just to let us come round and pester him. I was really taken aback by just how kind he, Daniel and Jo Rowling were with their time.
I think I've got a healthy balance with greeting fans now, I used to be much more along Rupert's line where I didn't want to say no. I think I've only probably said no maybe a handful of times, and that's only because I was eating dinner with my family and politely said: "Do you mind if I do it in 20 minutes?" or something like that. So if it saying no ever comes across as rude it never is intended. But I've struck a healthier balance than Rupert has by the sounds of it.
Usually you forget that coming up to a stranger like that, someone that you're a fan of, and asking for a picture is actually a very nerve-racking thing to do, so they're usually just very nervous about the whole situation.
Funnily enough there was a girl that we saw on the train up to see Jo up in Scotland, it wasn't on the film unfortunately but she dropped me a note because she was too shy to come and say hello.. She had lost her mother about four or five years ago and she had a real hard time with that obviously. But through Harry Potter, and through online fan pages, she found a whole community of people who had gone through similar things, and now she'd come over to London to visit them, and was staying with them. It was just remarkable how a book can actually create friend circles and create a community like no other.
I suppose it's a bit like – whether it's football or whatever, the enjoyable thing in being a fan of anything, is that you're surrounded by 1,000 or 20,000 very like-minded people. It's a community and a club – I think humans kind of need that in a way.