Tails You Win: The Science Of Chance
Chance, risk, uncertainty, luck - call it what you will - affects every part of our lives.
And so when BBC Four commissioned our programme Tails You Win: The Science Of Chance there was a huge range of possible themes to explore, from gambling to natural disasters, extreme sports to collapsing economies, coincidences to lotteries.
We ended up touching on all of these since they all, at least to some extent, can be handled using numbers.
Of course people's feelings about chance and risk are vital, as my guts told me when I was waiting to do a skydive.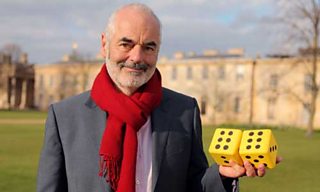 David Spiegelhalter in Tails You Win: The Science of Chance
But I am a statistician in the Faculty of Mathematics in Cambridge and so I think numbers are cool and when someone says something is 'risky', I immediately ask 'how risky?'
The programme shows how we try and answer that question, although the producers would not let me use all the equations. Meanies.
But they did let me talk about the fundamental ideas of chance itself. Does it exist as part of the external world? Or is it just a way of saying we don't know - our personal ignorance?
These are wonderfully tricky questions that a seven-year-old can ask and the biggest brains can't agree on.
My personal tendency is towards the 'ignorance' interpretation and I certainly believe that any probabilities we put on future events are a product of our judgment and don't really exist 'out there'.
But in the end all these fancy ideas don't make much difference, we still need to decide whether to spend our pension lump-sum on a huge motorbike or save it for our old age, go for a jog or slump on the sofa, buy a premium bond or a lottery ticket.
As the programme shows I love trying to compare the risks of different choices and so, for example, the theory of gambling fascinates me.