Original Drama Shorts: I directed Flea
I directed Flea, one of the three short films commissioned for Original Drama Shorts on BBC iPlayer this year.
Of the three scripts, Flea immediately jumped out to me – actually that's not entirely true.
I read the first line of the stage directions and felt a bit disheartened. I've seen a lot of bleak British shorts set on estates and was hoping for something a bit more magical.
Then I got to the dialogue, which is in spoken word, and the story jumped off the page! I loved it. It was different and bold.
'My world's a tough world, a rough world, a kick-in-the-guts and a spit-in-your-food world'
Cat Jones showed such great skill in writing really unique, funny, engaging and heartfelt poetry that it elevated the story, making it more than the sum of its parts.
I could see various ways it could be conceived, one of them being a bit like a music video, which would have been cool and cutty.
But my instinct was to embed the dialogue in truth and naturalism and make the world around it heightened as opposed to the other way round.
It is true that the theme of domestic violence is at the heart of the story, but for me it was always subsidiary to "the world according to Flea." 
Flea's is a heroic narrative, a kind of recipe for rising above adversity in any form, no matter how powerless or vulnerable you may feel.
For that reason I felt it was deeply important to heighten the characters, the colours and visual style of the short yet find the truth, heart and emotion in the performance and delivery of the verse.
I saw it as a kind of Dr Seuss for adults.
One of the biggest challenges was casting the right Flea. Originally she was written as a male.
We saw both spoken word artists and young male actors but no one was really doing it for us.
I think it was in the second round of casting that I said it might be worth seeing what a girl could bring to the role.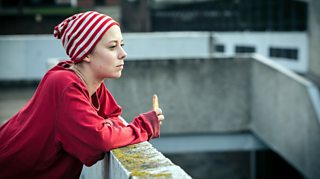 'I'm mostly unnoticed and that's an advantage' - Flea (Alice Sykes)