ATTENTION: This post contains spoilers and is intended for viewers who have already seen episode two of The Honourable Woman.
The Honourable Woman is an epic eight-part BBC Two drama starring Maggie Gyllenhaal as powerful businesswoman and philanthropist Nessa Stein, daughter of the late Israeli arms procurer Eli Stein. Newly enobled into the House of Lords, she is rocked by the mysterious death of a business contact and a kidnapping.
My role for The Honourable Woman was as special effects supervisor.
I work as a supervisor for live action special effects, this means that we provide all the special effects that are actually shot at the time the scenes are acted out and filmed with the camera, as opposed to generating and compositing stunts and effects with a computer.
The benefit of live action special effects for the actors and the director is that they have something to interact with when playing out scenes.
One of the effects I was asked to provide was for the scene where Ephra Stein (Andrew Buchan) and his wife Rachel Stein (Katherine Parkinson) are at a gala function and a protestor smashes a bag on the table covering them in fake blood.
The requirements were for a vessel containing a good amount of theatrical blood that was strong enough to carry the liquid yet would break easily in every direction to the splatter the blood on to the bystanders.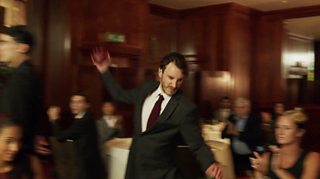 A protester enters the gala dinner, holding the wax vessel containing fake blood
It was decided that we would make vessels the size of a flattened grapefruit out of wax and fill them with blood.
The properties of wax enable the vessel to hold the liquid yet break and shatter easily while creating no hazard to the actors.
The wax itself was coloured a blood colour. After filling, the vessel was sealed with wax.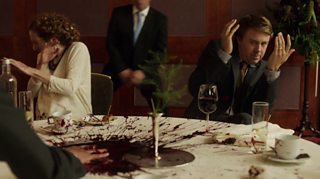 Rachel Stein (Katherine Parkinson) and Ephra Stein (Andrew Buchan) are ambushed
Tests were carried out on special effects technicians who are used to being guinea pigs for all sorts of tests that might include bullet hits, throat cutting rigs, hanging rigs, immersion in fake oil, or having a lit light bulb smashed in the face.
The tests help us make any adjustments that are needed to enhance the effect, or make it more actor friendly (if they are using the prop), or to make the effect safer should it be a higher risk effect.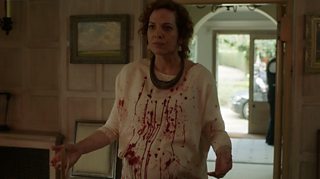 Rachel Stein returns home after a traumatic luncheon