In the Club: Bringing Jasmin's storyline to life
As the painfully honest and utterly heartwarming series about motherhood returns, new mum Jasmin is not only trying to repair her marriage, but is pregnant again - with twins. And when it's revealed there could be complications, her strength is truly put to the test.
My character, Jasmin, is usually the confident, dry-humoured, sociable one. She has no filter with what she says and when it comes to her relationship with Dev, she is definitely in charge!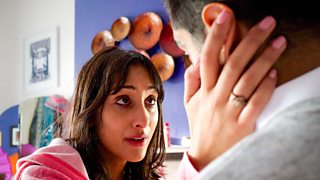 She adores Dev, but doesn't show it in the conventional way. She isn't an overly affectionate wife to him and she certainly doesn't like to be made a fuss of. To make matters worse, her own mother and mother-in-law are now living with them, adding to the pressure of raising their daughter, Amber.
She was so scared of being a new mum the first time around, so finding out she's pregnant again with twins catches her completely off guard.
She'd only just begun to find a nice balance of being a new mum to Amber. Jas and Dev had only just come out of the aftermath of her affair. When she finds out that there are complications with the twins she wholeheartedly blames herself, believing it's bad karma for her previous actions.
In this series we see the vulnerable side of Jasmin which she usually keeps locked away. The impact of having such devastating news really takes its toll and from the off we see her crumble under the pressure. Her steely determination and force of will, shaky at first, pull her through.
Jasmin struggles to come to grips with needing an operation
The show's writer, Kay Mellor, was approached to do this story about twin pregnancy from a lead obstetrician who wanted the subject matter to be known more widely. I had a wealth of resources on hand at all times so I could tell the story as truthfully a possible.
For me, I really learned how terrified parents can be, finding out that they are having twins, worrying about the cost and the sheer amount of emotion and physical pain a woman goes through carrying two babies.
We worked a lot on movement too - how low the baby is sitting, the pace you would walk. A midwife was always at hand to guide me and I watched videos of pregnant women carrying twins and chatted to women who have been pregnant with twins too.
We had a lot of supporting artists who were really pregnant on set most days, so I could always watch them and ask questions.
I couldn't just jump up to get off the sofa or even sit down without much help and support. I usually walk as quick as lightning so carrying this huge, heavy bump and walking like a snail took some getting used to!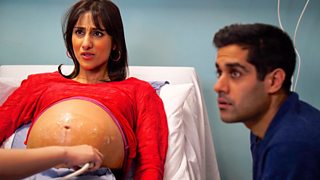 Jasmin is so determined to make things right after her affair and really does feel alone in making the right decision for the sake of her unborn babies. Dev and her family mean well, but only she can make the decision. She just doesn't know what the right one is.
She is reluctant at first, but later fully embraces her friends, showing their unconditional support as they all rally around to make things as smooth for her as possible - including one very tricky baby naming ceremony for Amber.
They've all kept in touch since meeting at a parenting class and understand that they are all navigating their own way through motherhood, each with their own issues.