How we went about keeping the Clangers' old-world charm
I have been in the animation industry for over 25 years and worked on many children's classics, but when I tell people I am working on the Clangers I get such a warm reception. Everyone always asks about the Soup Dragon!
I think the Clangers appeal to all age groups. I know, from watching the originals in the early 1970s, that my mother was as much a fan as we children were. In fact I recently found the 1973 Clanger Annual in my parents' loft and made Clanger biscuits with my god daughter from a recipe I found in it!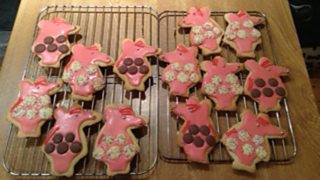 We have the occasional young visitor to the animation studio in Manchester, and they are always drawn to the Clangers characters. Everyone wants a cuddle. The stories in the programme are gentle, funny, musical, loving... and frequently a bit bonkers. Each Clanger has a definite personality too.

The original episodes were shot on a very tight budget and with very short time constraints. The animation was all done by Oliver Postgate. He would have shot 'blind', which means without being able to view what you are filming while you do it.

Technology has moved on so much, and now we have wonderful software which allows us to step through what we are doing frame by frame. We can watch our shots as we do them and even look at what everyone else is doing. The animation on the new series will be much smoother but we are aiming to retain the pace and charm of the original. Lots of lovely pauses.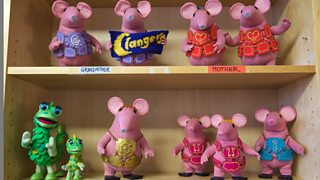 Clangers characters line up on the shelves as they await their turn on-screen
There are 25 frames in a second of animation, and we are expected to average about 12 seconds a day per animator. This is harder to achieve when all the Clangers decide they want to dance!
Our Clangers are mainly knitted by Amanda Thomas. She is a very 'crafty' and talented lady. She has tried to keep them as close to the originals as possible whilst still allowing for the more sophisticated 'skeleton' (we call it the armature) to fit inside. They are all hand knitted, just like in the original series.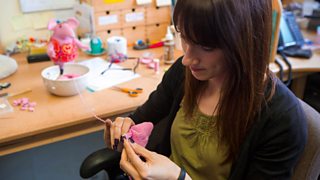 Clanger-coloured wool is bought in large quantities and hand-knitted into characters
I am looking forward to introducing the Clangers to a new generation. I have eight nieces and nephews and they have all watched the originals in preparation for the new series. I feel it is a continuation of the original, rather than a remake.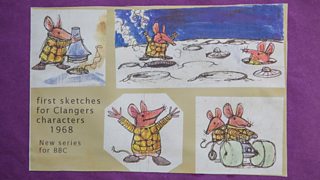 Original sketches from 1968 show early visions of the Clangers
Jo Chalkley is an animator for the Clangers.
Clangers starts on Monday, 15 June at 5.30pm on CBeebies. Each episode will be available in BBC iPlayer for 30 days after broadcast on TV.
Comments made by writers on the BBC TV blog are their own opinions and not necessarily those of the BBC.