I've had the great fun job of advising the TV team making BBC One's new drama Dickensian. I'm a professor of English literature and so I've been working to make sure that Charles Dickens himself would still recognise his characters in the drama.
Dickensian is a mash up of Dickens characters and stories put into one location, of a kind Dickens would have warmly approved. My own favourite character is Inspector Bucket, for his navigation of both tough professionalism and caring humanity. But who will become your favourite in this new series?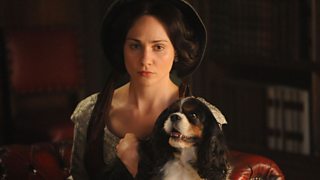 Actress Tuppence Middleton plays Amelia Havisham - the owner of one very pretty dog
Eerie jilted bride who remains in her wedding dress living amongst the decaying remnants of the bridal feast. She trains her beautiful adopted daughter Estella in cold-heartedness as revenge on men.

Dickens' gothic depiction of Miss Havisham points to the limited life options for unmarried women (often described in the press of the period as "redundant") in his society. In Dickensian,we are introduced to Amelia Havisham – although Dickens doesn't tell us her first name - before this catastrophe. As an heir to her father's brewing company and with good business nous of her own, she has responsibilities and opportunities, as well as the support of best friend Honoria Barbary. A beautiful young woman, with a cute dog, and the world ahead of her - what could go wrong?
Why you'll love her: A tough outer shell covers a vulnerable heart and you'll be desperate to not see it broken.
Inspector Bucket - played by Stephen Rea - is a key character from episode two onwards
Amiable, shrewd, determined and caring: Inspector Bucket embodies a type of policing new to mid-Victorian London. Dickens partly modelled the character on the real-life Inspector Field, who he admired and accompanied one night on an East-end beat.
Bucket is central to Dickensian's who-dunnit and can make himself comfortable in any society. Or he would if only his dodgy back would stop bothering him.
Why you'll love him: Moral, honest, kind – a genuine humanitarian in a murky criminal world.
Jack Dawkins/ The Artful Dodger (Oliver Twist)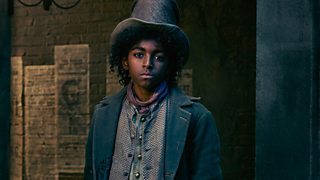 The Artful Dodger (played by Wilson Radjou-Pujalte) is one of Dickens' most famous characters
Dickens' most loveable child criminal and star pickpocket of Fagin's gang, The Artful Dodger feeds the starving Oliver when he arrives in London and introduces him to the group.
Dickens uses Dodger's charisma and hospitality to make a political point about the inhumane treatment of the poor. Very much Fagin's right hand man in Dickensian, will his boss repay his unerring loyalty?
Why you'll love him: Cheeky, quick and loyal to Fagin to the last.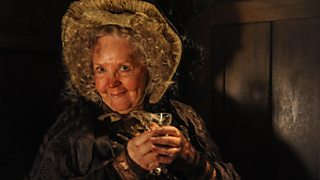 Pauline Collins plays Mrs Gamp - the nurse with a questionable bedside manner
Gin-swilling, ethically suspect, hired nurse. A quick-witted comic character with great imaginative resources, but not someone you'd want to find at your bedside.

Victorian medical reformers used Sairey Gamp as a model of reprehensible old-style nursing in contrast to the clean, morally upright, sober new Nightingale-style nurse.
Why you'll love her: She'd do anything for a gin but she won't take a penny from the impoverished Cratchits.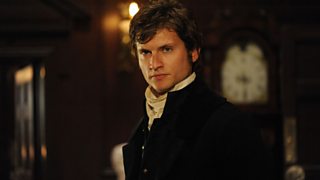 Compeyson (Tom Weston-Jones) might not be all that he first appears...
An arch schemer and smooth criminal. He has his associate Magwitch do the dirtiest work in his forgery swindles, and when on trial uses his gentlemanly appearance, public school accent, fine clothes and manners to get a lighter sentence.
Dickens has Magwitch voice his critique of the biases of the legal system against the poor. In Dickensian,we meet Compeyson as a younger man who seems to have all his principles intact, and rushes to the aid of Miss Havisham. Gallant hero or villain in waiting? Time will tell and in Dickensian anything is possible...
Why you'll love him: Handsome, fearless, intelligent and one step ahead of the rest.
I love Dickens. And I'd like to know from you which Dickensian character will you come to admire – or loathe?
Holly Furneaux is a professor of English literature at Cardiff University and literary advisor on Dickensian.
Dickensian starts on Boxing Day at 7pm and 8.30pm on BBC One. For full details of when all 20 episodes will be broadcast, please see the episode guide. Each episode will be available to watch in BBC iPlayer for 30 days after broadcast on TV.
Read writer Tony Jordan's post about creating Dickensian.
Comments made by writers on the BBC TV blog are their own opinions and not necessarily those of the BBC.