Playing my own dad in The Road To Coronation Street
I'm about to appear in a BBC Four drama about how Coronation Street started called The Road to Coronation Street, where I play my father, Bill Roache (who plays Ken Barlow in the soap) as a young man. I am about the same age as him when it started.
To get into the role I had some great chats with my dad about the good old days and how he was feeling at the time. He told me how excited he was about everything but that he was also very nervous, so I kept that in mind for the part.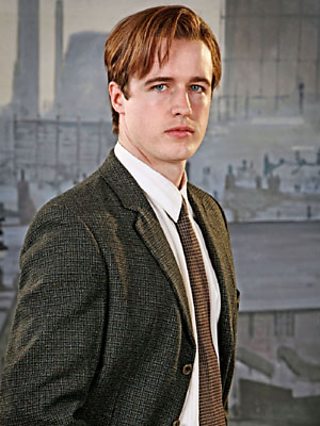 It has a great cast, and working with Celia Imrie, Jane Horrocks, Jessie Wallace, Christopher McKay and Shaun Dooley (to name a few) was such an honour. It was so inspiring to watch them at work.
It's also directed by Charles Sturridge, who is truly a genius. He is such a patient director and never fails to get breathtaking results.
One great memory of filming was my first day on set, and walking on I felt like I had gone back in time. Charles had created a very atmospheric environment and every prop was authentic to the era. Even the TV cameras they used back then were on set and operating.
Even if you're not a Coronation Street fan you'll still love this as it's a gripping story about a young man's determination to get his show out there on the TV despite what he is told. He fights for what he truly believes in. Mix that in with a cast of some of the best loved actors and brilliant directing and you've got the ingredients for an absolute stomper of a show.
As an actor, nerves always play a part which you learn to use to your advantage in your performance. Filming this definitely hit the nerves a bit. I wanted to make sure the part was evocative and accurate, of course for the production, but mainly for my father.
I also appear in Coronation Street, the soap, playing Ken Barlow's grandson. I had fun filming both roles, but it was quite a crazy experience playing my father's character's grandson, and then playing my father himself.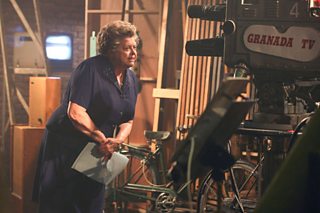 But what made it even more confusing was that I filmed them both at the same time over a period of two weeks, so I would film one in the morning and the other in the afternoon.
Luckily they were both filmed in the same location at ITV, so I only had to pop over next door. I really enjoyed it though, as I was doing what I love.
Anyway, I'll sign off now. I hope you enjoy The Road to Coronation Street and do let me know what you think.
James Roache plays William Roache in The Road To Coronation Street.
The Road To Coronation Street is on at 9pm on Thursday, 16 September on BBC Four.
The programme is part of Planet North, BBC Four's season of films celebrating the culture, history, life and architecture of northern England.