Alive: Rankin Faces Death
When I first considered the ALIVE project, I didn't immediately imagine it as part-documentary, part-photography.
My initial intentions centred around translating the stories of incredible people touched by death, and processing them through the medium of photography.
In hindsight, now that the project is complete, I think having the two approaches was better as it allowed the stories to be told on different levels, to different audiences.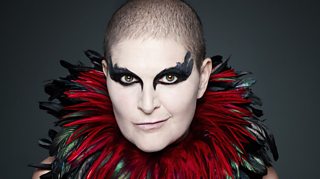 'It should symbolise the inner strength... that I'm fighting to the bitter end. I'm not giving up.'
It also gave me a collaborator (Jack Cocker, a director for The Culture Show) to bounce such a tough subject to and fro.
I think the photographic exhibition and the documentary complement one another because we worked so closely together on it.
To see and hear the stories behind the photos contextualises them and gives them an extended meaning that my little films (in the exhibition) just couldn't do as well.
The guiding principle in our approach can be found in the name of the exhibition - 'Alive: In the Face of Death'.
It took me ages to think of this title - I considered it much longer than any other title I've worked on before.
Even though the project was about death, I didn't want it to be negative, I wanted to approach it with a positive attitude.
The plan was to photograph people staring death in the face, or those who had had a close brush with death, as it is these people who have the most incredible passion for life.
It was an idea I'd had from meeting people in this situation in the past but also in watching my parents die within weeks of each other. Their passing gave me a new found respect for life itself.
I found myself preoccupied by notions of time, the frailty of existence and what life meant.
Also in my job it's important for me to continuously remind myself how lucky I am to be alive (never mind successful) and that nothing should be taken for granted.
It took Jack, the director, and I quite a long time to come to terms with our own ability to discuss death with people.
'It's the most ordinary thing in the world, why be frightened of it?'
We both went through what almost amounted to a mini depression thinking about the subject before eventually getting to grips with it - and from that point on it was very positive.
We always do a lot of research on the subjects I'm going to meet or photograph.
With this project it was even more important for both Jack and I that we worked with people we felt could handle what we were going to go through with them.
We wanted to make sure that the subjects wouldn't get too upset or feel used or damaged by the process.
Our researcher, Jolene, and also my producer, Lucy, did a lot of the ground work and met most of the subjects in advance, to sound them out.
It's funny, so many people call me a 'fashion photographer', or a 'celebrity photographer'. I really just consider myself a photographer, full stop. I will turn my lens to whatever interests me.
My purpose is always to reveal something in a person, even if it's just something seductive - like a beautiful face, well lit and striking to the eye.
I'm a very inquisitive person and I ask a lot of questions when I photograph people. So interviewing them isn't that different, I just don't have my camera to hide behind.
The thing with photography is that it is like a microscope. I can see every detail of that person's face, how they react to comments and questions. It's like tuning in to their feelings and reactions.
That is harder when the photographic camera isn't there, as they can see your reaction. You haven't got that crutch to lean on.
They are aware that you are scrutinizing them, so you have to tone everything down and therefore push and see less.
The similarity between the two is that, in both instances, there are cameras present - and cameras make people nervous, so half of my job is to counteract that and put them at ease.
I think a lot of people expected this show to be gory - shocking or sad. But what I saw in the subjects was life affirming.
I was criticised for making the images too polished, like magazine covers, but I think that's almost what those viewers have placed upon them.
The real depth of the images is in the subjects. Because they aren't famous we judge them as being unsuccessful, as they don't show pain, suffering, what people might expect from the title of the show.
I wanted the images to be positive - to reflect what I was experiencing. It felt dignified and powerful to me that my subjects gave so much of themselves without looking like victims.
'You're aware that it's a very special one-off event and this isn't going to happen again' - Louise Page
Not everybody who is dying looks ill - that's the reality. Life is so delicate, and I was more interested in people's emotions and motivations, than how they looked.
A few of the songs in the film were my suggestions, but most of the music is down to Jack, the director.
He's a little more sentimental than me, so the music can get a bit soppy at times! But I think it suits the film.
Even when you collaborate with a director on something like this, you can only push so far for what you want. Eventually it has to be their film, and this is 100% Jack's film.
He has crafted it out of quite a broad idea that the accompanying exhibition touches on but isn't totally about.
The film shares a journey with me, but I think it speaks more to the everyman in their own personal relationship with death.
The exhibition is more personal to me. Also you can't make a doc about 50 odd people – or it would last seven times as long.
'Forget all the cameras and the lighting, it's engaging with people' Rankin
In the exhibition there are additional little films I produced on people who aren't in the documentary. These films explain their stories and are so important to the exhibition itself.
The family snaps in the film are intensely personal but also strikingly universal – children posing by a car, posing in the back garden, couples on holiday, caravan, school uniforms, pets etc.
They all look familiar and recognisable even if we don't know the individuals. I love these images, probably more than I do my own.
I think the music and these montages show how important photographs are to us as human beings.
They help really tell the story of each of the subjects whilst at the same time commenting on how important images are to us. It's an amazing conceit and I enjoy those moments in the film the most.
I wish I'd made them part of the exhibition, but it was something I didn't think of at the time.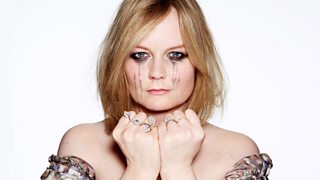 'It's not all grim... There's really beautiful things that come out of these situations'
The whole process of working on this project was so life affirming. It's one of the most positive things that I've done.
Meeting the subjects has changed my life: I no longer accept negativity in myself for more than a few hours. What have I got to complain about?
I also find myself less scared of death and I'm happier talking about it with people. I'm not awkward or shy to ask the difficult questions.
I've made a few plans for my own funeral and beyond, but now I've been through this I'm more interested in living than making arrangements.
Rankin is a photographer and the presenter of Alive: Rankin Faces Death.
Alive: Rankin Faces Death is part of The Culture Show on BBC Two and BBC Two HD at 10.10pm on Saturday, 13 July.
If you, or someone you know, is affected by the issues raised in this programme, please see the information and support page for details of organisations which can help.
BBC Radio 4 Desert Island Discs: Rankin
Comments made by writers on the BBC TV blog are their own opinions and not necessarily those of the BBC.