The Driver: Acting again with my childhood friend
In The Driver I play Vince McKee, a taxi driver working in Manchester. He is struggling in life, not necessarily financially, but emotionally.
His eldest son has left home prematurely, and Vince can't cope with life without him.
Watch the trail: Vince McKee is an ordinary man who makes a terrible decision

His wife Ros (Claudie Blakley) isn't prepared to talk about it, and Vince is only holding onto his sanity by his fingertips.
One night he picks up an old friend in his cab. Col (Ian Hart) has just got out of jail after six years.
He has fitted back in with his old gang and manages to put some work Vince's way. Vince knows it's 'no questions asked' - and from then on, there is no turning back.
Vince (David Morrissey) meets his old friend Col (Ian Hart) who has been released from prison

Ian Hart and I have been friends from childhood. I have tried to work with him many times, but he has always been busy working in America on films with Will Smith and Dustin Hoffman to name just a couple.
So I was biting my nails right up until filming started, hoping this time it would work out.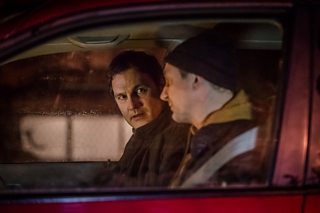 David Morrissey and Ian Hart acted together as teenagers in Willy Russell's 1983 drama One Summer

He is a fantastic actor. But also, because we are so close, we can fill in the gaps in the relationship between Vince and Col.
There is almost a shorthand between us.
One of the first scenes we had to shoot is a scene really near the end of episode three.
It was tough to get into, because we hadn't done any of the scenes leading up to it.
But because Ian and I know each other so well, we were able to go for it and trust each other. It worked really well.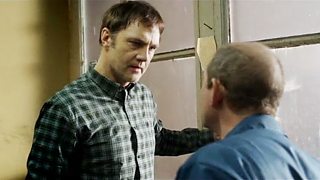 A tough scene from episode three for the two Liverpudlian actors playing Vince and Col

I was very nervous as it was made by my own production company, Highfield Pictures.
But we teamed up with Red Productions, who I have worked for a lot as an actor, and it was a joy.
I have directed, acted and produced in the past, so wearing many hats is something I enjoy. But it's important to have a solid and talented team around you.
My partner at Highfield Pictures, Jolyon Symonds, does all the heavy lifting when it comes to producing.
Our director, Jamie Payne, is that rare thing, a great actor's director and a great action director.
And I have wanted to work with our writer, Danny Brocklehurst, for many years.
I have to say, the whole shoot was memorable for me. I love the North West and Manchester. It's a great city to work in.
The driving sequences were really fun to do.
Our stunt team was led by Crispin Layfield who is one of the best stunt men in the business and my stunt driver was Andy Smart who I have worked with many times.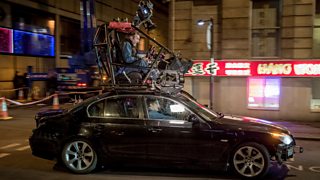 For David's chase scenes his car was driven by a stunt driver