I've been interested in the First World War since I was a boy, but I've always found it so hard to understand how people allowed it to happen.
The process of writing 37 Days gave me a real insight into why we went to war – something I hope the viewer will grasp as well.
So how do you get your head around the few short weeks that changed the world forever?
Well the producer Sue Horth and I compiled a 175-page 'war book', which broke down the 37 days.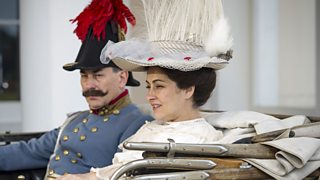 The assassination of Archduke Franz Ferdinand and his wife in Sarajevo set off a chain of events
I traced every conference, every telephone call, private letter and telegram swirling around Europe.
This helped me understand what my main characters would have known and said. I was also keen not to break any major timelines in the plot.
Writing 37 Days did change my perspective of war. I started thinking Europe had slept-walked into war and all the nations were equally to blame.
But I came to think that it was the German war machine that gave the crucial push.
I think the German high-command didn't have the will to stop the war as they saw a conflict with Russia as inevitable.
It was important to understand the predicaments of my characters, like German Chancellor Bethmann-Hollwegg.
He had to work out what Kaiser Wilhelm II wanted and formulate a foreign policy from this.
But the kaiser, who was an autocratic monarch, who was constantly changing his mind. He may have been a little bit insane too.
Kaiser Wilhelm II is briefed by German ambassador to Britain Karl Max Lichnowsky
I also think the British Foreign Secretary Edward Grey was in something of an impossible situation.
His instincts were peaceful and I guess he could have been more aggressive to Berlin at the start.
He could have said, 'We will mobilise for war if you encourage Austria to attack Serbia', and that might have reined in Germany.
But equally it could have encouraged Russia, our ally, to become more aggressive and bellicose. I hope the viewer will see the dilemmas facing these men.
There are three episodes of 37 Days and each one deals with a shorter period of time.
This is because events moved quite slowly for the first four or five weeks after the Archduke Franz Ferdinand was assassinated.
A lot of statesmen went on holiday as it was summer. But by the final days in August 1914, the pace of events was incredible.
37 Days is ultimately about politics and power. There are some long conversations in it.
A telegram arrives from Germany and causes a rift in the Cabinet Office