Wimbledon may seem like it's all about the Andy Murrays and Roger Federers of the world, but there are people volunteering in all sorts of hidden roles you'd never think of. Who figures out how many strawberries to order? Who makes sure there are enough tennis balls for the tournament? Who's in charge of the famous Wimbledon queue? Well, we can help with that last one...
My role at Wimbledon is to be an Honorary Steward. There are about 200 of us who effectively act as hosts to the Championship in terms of meeting, greeting, advising, directing and giving information out to members of the public as they arrive. We're also in charge of the queue around the ticket holder gates.
When people arrive at Southfields Underground Station or Wimbledon mainline station, the first people they're probably going to see are the stewards to give them that warm Wimbledon welcome. A lot of people will be looking for the end of the queue, because that's a unique part of the whole Wimbledon experience.
We've got to make sure they get the right sort of advice, get told where to go, and what to expect for the hours that they might have to wait in the queue to get into the grounds. That's a big part of what we do.
Anyone can apply to be an Honorary Steward. However, there is a waiting list and our Stewards come from a wide variety of backgrounds and experience. Some may have worked for other groups like The London Fire Brigade and we have also have had a number who were volunteers at the 2012, which really helps as they understand what this type of role involves. We also have a team of student day and night stewards who are very keen to be part of the Stewarding team and may well be with us for three or four years.
This isn't my full-time job - I run a retail business! So I, like most of the other stewards, take off two weeks of the year to work at the Championships. A lot of people are retired. A lot of people have jobs and just take two week's holiday.
I've worked here for 15 years. I took over from the previous chief steward back in 2013, and he'd been a steward for 34 years. Once you start doing stewarding you tend to stay for quite a long time!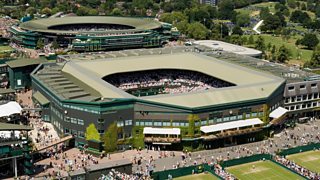 Because a lot of people have done it for years and love coming to Wimbledon and love the queuing experience, they will turn up very well prepared. People come with their packed lunches and their picnic bags, and with magazines and music to listen to and that type of thing. You can have quite a long wait.
People are usually pretty well informed about what to expect, but we have people from around the world who've never been in the queue before and find it amazing that people stand in a line for a good few hours before they get into the ground – but the end result is pretty good!
You're always going to get a little bit of boisterous behaviour in the queue. Generally speaking though, the Wimbledon crowd is a very well behaved crowd, and we don't get too many problems. We don't want people who have been drinking in the queue – so we have to monitor that and politely enforce it.
You do get a few rowdy fans though. They're usually absolutely fine, you just have to remind them that there are other people there as well that they've got to behave around - and generally speaking, once you've spoken to someone they're usually pretty good.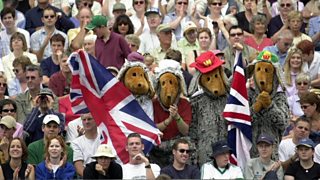 You do get some characters at Wimbledon! They come back year in year out. They're sometimes wearing something strange. We used to have a chap – we used to call him 'toaster man' – he used to have a hat with a toaster on the top of it.
Wimbledon is very unique compared to any other tennis tournament or sporting event. A lot of people including me pinch themselves when they go into the ground. I think it's a combination of the way it's run, and its history. It's just a very special place to be involved with. I think everybody who works there knows that, and that's why you get that very special team spirit; because they're there to make sure everyone coming to Wimbledon is going to have a great day.
My three tips to Very British Queuing Etiquette:
1. Arrive early. No question. Otherwise you might not get in.
2. Make sure you come with plenty of water, because you can have a long wait.
3. Come prepared for the British weather. Make sure you check out the weather forecast!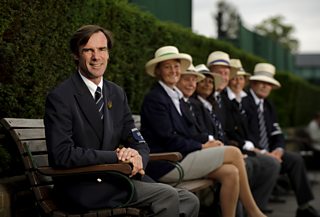 Wimbledon continues until Sunday, 12 July on BBC One, BBC Two and Red Button. Matches will be available in BBC iPlayer for 30 days after broadcast on TV.
Comments made by writers on the BBC TV blog are their own opinions and not necessarily those of the BBC.