Murder: Who are they all talking to?
After the success of one-off drama Murder: Joint Enterprise in 2012, the team behind the programme are back with a new three-part series. In each standalone episode of Murder the actors speak directly into the camera. Writer Robert Jones explains…
Actors aren't the only ones who ask who it is that their character in Murder is talking to.
I've never felt the format was a fly-on-the-wall documentary or video diary. When I started writing Murder, the form I used for inspiration was the witness stand in a law court. I was struck by how compelling this storytelling was, and how easily or problematically it fitted with the testimony of others.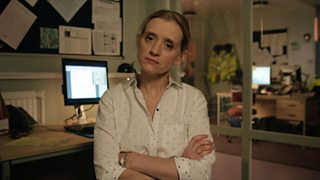 Actress Anne-Marie Duff stars in episode two - directed by Paul Wright
The characters in Murder aren't in court, they aren't talking to a barrister - but they're still giving their unique version of events in a way that favours their own actions over other people's. Almost all of us will put ourselves in as favourable a light as possible, whatever terrible thing we might have done. There's always some mitigating or provoking circumstance that can be stressed, and that's what these characters are doing. They rarely lie, but they often omit and embellish. The best description I've come up with is that they're conversations with God.
The other big difference for the actors is more technical: they have to perform alone, and look right into the camera. Some find this unsettling, especially as they can see themselves reflected in the lens. A few times, actors have invented stage directions for themselves for the moments prior to their lines: walking about or imagining a scenario that might fit with what they're doing. Almost all seemed to enjoy it in the end. They might not be sparking off other performances around them but they do have the undivided attention of the director and crew.
Watch the unusual acting approach in action in a clip from Murder: The Third Voice
The direct-to-camera approach is demanding but pays dividends. Because there's nowhere to hide, it seems to reveal character starkly. The combination of the close-up and the confessional nature of the speeches is potent. It's also quite intense over the course of the drama, so it helps to have all the other evidential elements in play and to have editors as skilled as Jacob Thuesen and Kristina Hetherington to bring them together so beautifully.
I'm aware that the format could be demanding on the viewer. It's not perhaps as straightforward as some more conventional dramas. I notice in the Radio Times that Alison Graham encourages viewers to "attend closely". I think she's right - and I hope that those who do will find their attention richly rewarded.
Robert Jones wrote Murder.
Murder, episode one is available in BBC iPlayer until 11pm on Saturday, 2 April. The series continues on Thursday, 10 March at 9pm on BBC Two. Each episode will be available to watch in BBC iPlayer for 30 days after broadcast.
Comments made by writers on the BBC TV blog are their own opinions and not necessarily those of the BBC.