The Bridge: Writing my favourite scenes
Saga Norén, Länskrim, Malmö and Martin Rohde, Köpenhamnspoliti.
I have had them in my life since 2006, when we started working on The Bridge.
The assignment from our producers was to:
1. Create a show that was equally set in Denmark and Sweden.
And
2. It had to be a thriller.
That meant detectives. From two countries.
In real life Swedes and Danes can understand each other, but we don't understand each other as well they do in the show.
The co-creators and I decided early in the process not to make anything of it. So every Dane speaks Danish and every Swede speaks Swedish.
The first thing we did was figure out how to get the detectives together on a case.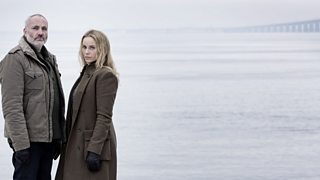 Martin Rohde (Kim Bodnia) and Saga Norén (Sofia Helin) investigate a murder on Øresund Bridge
So we put a body exactly on the border. On the bridge between Copenhagen and Malmö. Then they had to come out from both countries.
 
But who were "they"?
We created Martin first because we knew we wanted to work with Kim Bodnia. (We didn't know if he wanted to work with us but we were going to try.)
Kim meant a white, middle-aged, male detective. We've had quite a few of them in Sweden.
Most of them divorced, with bad or no contact with their ex-wives and children, not very talkative, keeping most of their emotions inside, staring into the dark, drinking too much and listening to opera or jazz.
So we wanted something else. Someone else.
We wanted an open and empathic character with a big loving family.
Someone who enjoyed making small-talk, who was curious about his colleagues and close to his emotions. So that was Martin.
But who to bring in from Sweden? I had an idea. What if the Swedish detective was a woman with absolutely no social skills?
Catching up: Saga and Martin are friends but don't speak until another case brings them together
Everything she can read, she'll learn, but when it comes to interaction with another person, she's totally lost.
That was pretty much all we said about Saga Norén (beautifully played by Sofia Helin).
Now, the media and the audience have decided that she has Asperger's, but we've actually never diagnosed her in the show.
I understood and loved Saga from day one. That was not the case for everybody. Broadcasters, directors and even Sofia were a little worried.
"Are we really going to like her?"  It turned out we were.
Very early, when we saw the first dailies (raw unedited footage) we understood that we had something special going on in Saga and Martin's relationship and what worked really well was a scene in Saga's car where they didn't discuss the case.
In fact, it worked so well that we decided that there should be at least one of those in every episode.
Saga and Martin, on their own, not talking about the case but personal stuff.
Martin gets quizzed about his sex life by Saga
Now we refer to them as car/elevator scenes and they're my favourites to write, not only because they give me the opportunity to develop the characters more, they also provide some humour to the show.
And that is important. The Bridge is a dark and brutal story with quite a body count and you need to smile a little now and then to balance that.
With Saga and her personality I don't have to write "jokes", I just let her ask about the things she wants to know and/or have Martin trying to educate her in social behaviour.
Or let her be brutally blunt to other human beings.
Saga and Martin's characters and relationship are a huge factor in the success of The Bridge. I love them and since we're currently writing season three I will have the privilege to stay with them for at least another year.
Hans Rosenfeldt is the writer and co-creator of The Bridge.
The Bridge continues on Saturday, 25 January at 9pm on BBC Four. For further programme times please see the episode guide.
More on The Bridge
BBC TV blog: Live web chat with Hans Rosenfeldt 
BBC Breakfast: Watch an interview with Sofia Helin and Kim Bodnia
Comments made by writers on the BBC TV blog are their own opinions and not necessarily those of the BBC.