Getting the chance to make a documentary for BBC Three about young women converting to Islam was the job of my dreams!
It was what I always hoped filmmaking would be like, a tiny but strong team (me and my assistant producer Alys Harte), a fascinating subject (I've always been intrigued by what brings people to faith), and most importantly - our own camera!
As soon as I met our presenter Shanna Bukhari I knew the project would be a lot of fun. The production team was complete.
What can the converts teach Shanna about her own faith?
It was a massive challenge finding the converts to take part. After two weeks of calling mosques and support groups for new Muslims and drawing a complete blank, we decided we needed change tactics.
The people we initially contacted were suspicious of us on the phone simply because we were journalists.
We decided to meet people face to face to explain what we wanted to do, and that our aim was to challenge stereotypes about Islam.
We set out on a massive nationwide search - visiting mosques in each city along the way. Often we would need to convince the men in charge about the documentary before we could meet any women at all.
It was a hard task, and we weren't always received warmly. But in the end it worked!
We found that once we got to meet the women ourselves, as two young professionals with a genuine interest in Islam, we were welcomed with open arms.
It was still tough to find the best young women to take part, it's a very personal thing talking about faith, and it's a big deal to do it on camera.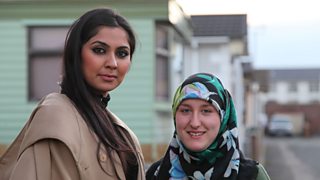 Presenter Shanna Bukhari met Alana, who became a devout Muslim after she met her fiancé
A lot of people find it hard to tell their family and friends about their conversion, so the last thing they want is to tell millions of viewers.
We were really lucky to meet women who were frank and funny, and who could express how important their new faith was to them.
Safiyyah was the first one we knew was totally right for the film - and I met her totally by chance.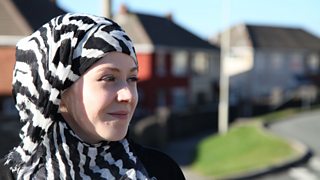 Saffiyah: 'Islam was so appealing to me... because it was a religion where it was quite conservative'
It had been a long and disheartening day, and despite going to two mosques and meeting many people - I hadn't met any converts. As I was leaving a Cardiff mosque I bumped into a white Welsh woman.
It turned out that she had only converted to Islam a few hours ago! Not only that, she was really keen to take part in the film as a chance to explain how hard it is if your family don't approve of your conversion.
After that everything else seemed to fall into place, and we found all the other contributors quite quickly.
I love doing all the camera work myself, as it creates an intimacy that allows people to share personal beliefs they might be scared to if there was a big intimidating crew filming in their bedroom.
It makes it hard work as Alys and I had to perform so many roles - runner, researcher, producer, director, camerawoman, we did them all!
Often we would be lugging camera kit in and out of the hire car late at night in the rain - grab a few hours' sleep - then drive onto our next location to film the next day. We'd be lucky if we had time to grab a sandwich.
I feel so lucky to have had the opportunity to make this documentary, and I learnt so much from Shanna and the others who took part.
There were some very powerful moments.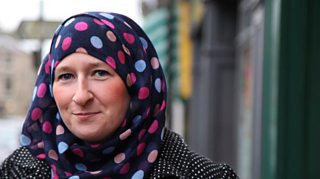 Inaya converted to Islam after a difficult time in her life
When Inaya confided in me that converting was like a weight being lifted off her shoulders, it really brought home to me how for each of the women, converting had enabled them to close a door on hard times in their past.
I saw with my own eyes that Islam is a truly peaceful religion. So often it is associated with angry men and extremism, but this couldn't be further from my experience of the British Muslim community. 
The women's sections of the mosques were full of warmth, children running around, a sense of female solidarity, faith, devotion - but most of all laughter. I don't think you often hear about that in headline news.
Emily Hughes is the producer and director of Make Me A Muslim.
Make Me A Muslim is on Wednesday, 30 January at 9pm on BBC Three. For further programme times, please see the upcoming broadcasts page.
Listen to Shanna Bukhari on Radio 4's Woman's Hour
Comments made by writers on the BBC TV blog are their own opinions and not necessarily those of the BBC.