What happened when this claustrophobic presenter went caving for Secret Britain?
I found out I was being sent caving for Secret Britain after a Q&A session in the Countryfile tent at our summer special. Someone asked what I would hate to do. I said anything in tight spaces. My executive producer then came up to me chuckling about story ideas for Secret Britain.
So the proposal was that I squeeze my way into Britain's deepest cave – Ogof Ffynnon Ddu in the Brecon Beacons – to witness a remarkable secret, the beautiful stalactites deep below ground. When these kinds of challenges come up, I'm usually asked weeks beforehand when the reality of it seems a long time away. I'm then in a rational state of mind so I reason with myself that it is the BBC, with risk assessments and insurances. And I also take the view that I'm being paid to do the work so I should bloody well do the work.
'I even freak out in a tight wetsuit. I'm not even joking.'
It was a challenging day in many ways. Mostly logistically. We were on site at 8am and by the time we had finished faffing with kit, it was nearly lunchtime and we still hadn't gone down the cave. Although I was horribly nervous about going underground, it's not really possible for our bodies physiologically to maintain a state of great anxiety for hours on end. After such a long time preparing, I just wanted to get on with it and get down the cave.
The sound of water flowing overhead was not especially soothing! The reality of metres and metres of rock above one's head wasn't a pleasant thought for me so it's a good job I am quite adept at imagining it is something quite different. I remember jumping out of a plane once and pretending I was jumping into water in order to do it.
If I needed a wee once I was in the caving suit, it had to be in the darkness when the crew were a long way past. But what a faff getting caving suits, radio mics and battery packs off and not letting any of them fall in the cave stream. On nearly every shoot I go on, I subconsciously stop drinking because the opportunity even for wild wees are really limited. We end up most Fridays with crashing headaches and UTIs!
I never thought I would pull out - not after the massive effort in getting there. Hours and hours of prepping, 15 bags of kit, extra caving hands to carry all that kit. That would have been terrible sportsmanship to pull out then.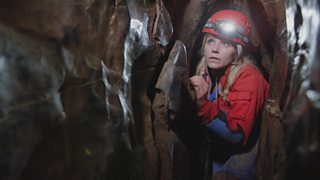 The day was hard all round. For safety - and for filming - we had to double the amount of bags that we ended up needing, including a scaffolding pole which wasn't used (but was still carried to the end of the cave system and back again). The journey was incredibly slow going and we weren't able to film the hardest part: straddling waterways and balancing on beams, just to get to the spots where we could film. We were hours and hours later than we should have been, probably using up all our goodwill with the caving team. Peanuts and chocolate fingers were our underground diet because they have the highest calorie to weight ratio.
Has the experience helped me with my claustrophobia? Nope! It's something you have or don't have I think. I still get claustrophobia in the back seat of a car if my feet get caught under the driver's chair.